Home» News&Events» News» China-ASEAN University Consortium on Medicine and Health Launched in Beijing
China-ASEAN University Consortium on Medicine and Health Launched in Beijing
  The launching ceremony of China-ASEAN University Consortium on Medicine and Health was held on October 14 at Peking University. The event, which was cohosted by ASEAN-China Center (ACC) and Peking University Health Science Center (PUHSC), gathered deans and rectors of 21 domestic universities as well as 24 institutions from 9 ASEAN countries. Jointly these institutions issued Beijing Statement during the ceremony, marking the beginning of the consortium.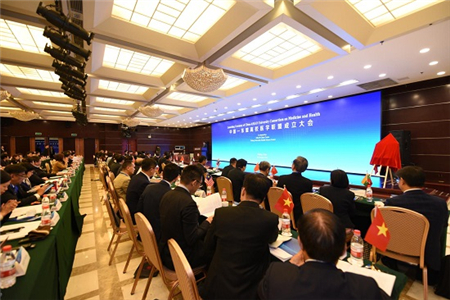 In his remarks at the ceremony, Deputy Director-General Fang Jun of Department of International Cooperation and Exchanges of the Chinese Ministry of Education encouraged members of the consortium to learn from each other through exchanges in medical education, research and care.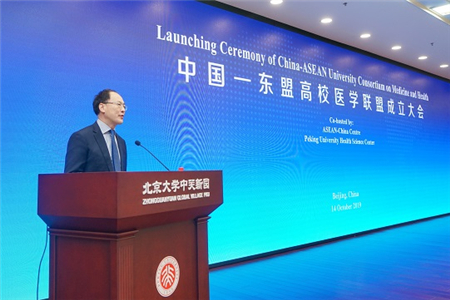 Deputy Director-General Fang Jun
  "The establishment of the ASEAN-China University Consortium on Medicine and Health is another important endeavor by ACC to deepen ASEAN-China friendly exchanges and practical cooperation in education," said Chen Dehai, Secretary-General of the ACC.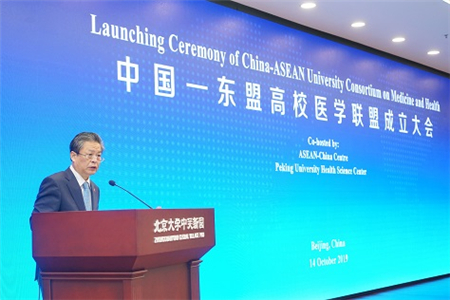 ACC Secretary-General Chen Dehai
  President Zhan Qimin of PUHSC reiterated the consortium's commitment to the spirit of "peace and cooperation, openness and inclusiveness, mutual learning and mutual benefit" as well as the principles of "extensive consultation, joint contribution and shared benefits". He urged members to increase exchange and cooperation, create bilateral and multilateral mechanisms for collaboration, and work toward better health and wellbeing for China and ASEAN countries.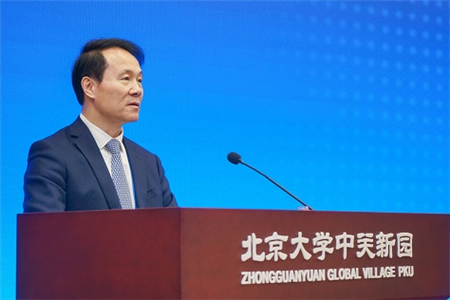 PUHSC President Zhan Qimin
  Mr. Fang, Mr. Chan and Prof. Zhan were joined by President Banchong Mahaisavariya of Mahidol University of Thailand in inaugurating the consortium.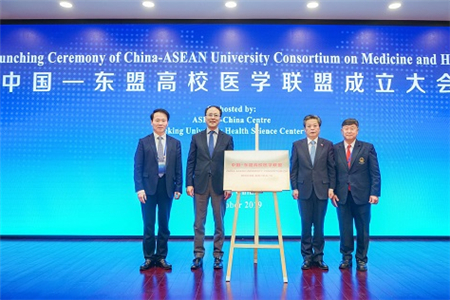 The ceremony was followed by a roundtable meeting in the afternoon, where the council of the consortium reviewed and adopted its charter and discussed its short-term and long-term action plans.

  Written by: Fan Xiaofei
  Edited by: Liu Xin
TOP