Home» News&Events» News» PKU School of Nursing Delegation visits British University of Leicester Diabetes Research Center
PKU School of Nursing Delegation visits British University of Leicester Diabetes Research Center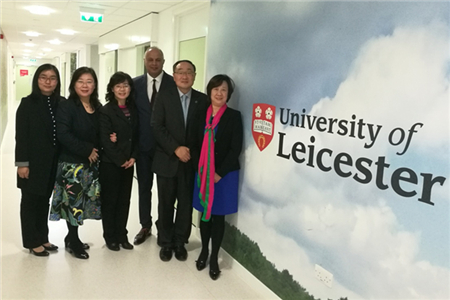 From November 29th to December 1st, 2017, professor SHANG Shaomei, Dean of PKU School of Nursing, led a delegation, including Professor JI Linong, Vice President of the International Diabetes Federation and Director of PKU People's Hospital Department of Endocrinology, and professor LI Mingzi, Director of Medical Surgical Nursing Care Division of PKU School of Nursing, and visited the University of Leicester.
  During the visit, the two sides held a roundtable meeting on the "Cooperative Training Project of Senior Diabetes Nurse Practitioners" and had heated discussions on the cooperation framework, project progress and development planning of the project and agreed that in future, further exchanges and discussions shall be held to accelerate the implementation of the project.
  The visit is of great significance to PKU School of Nursing's cultivation of senior Nurse Practitioner (NP). PKU School of Nursing will learn from the University of Leicester's NP cultivation model, take into account China's actual medical and social needs, and develop an NP cultivation model with Chinese characteristics, thus making contributions to the training of grassroots-oriented, advanced and practical nursing talents in china.
  Written by: WU Zhaoxia
  Edited by:Liu Xin
TOP