Home» News&Events» News» The President of University of Manchester visits Peking University Health Science Center (PKUHSC)
The President of University of Manchester visits Peking University Health Science Center (PKUHSC)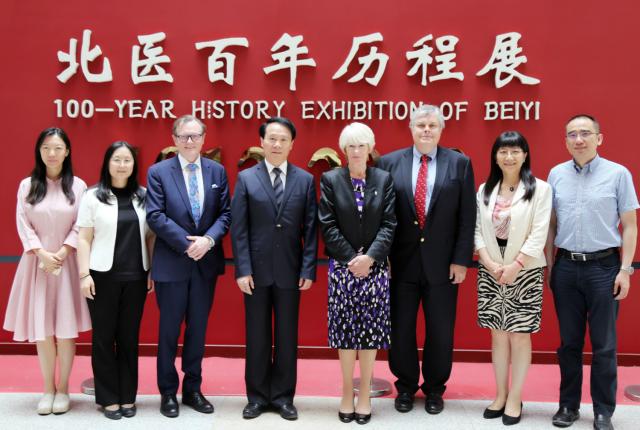 Univ. of Manchester President Visits PKUHSC
On June 12, 2017, a delegation of 3 people from British University of Manchester visited PKUHSC. They are Nancy Rothwell, president of the university, Ian Greer, vice president of the university and Dean of School of Biology and Medicine, and Martin Schroeder, vice president of the university and Dean of School of Natural Science and Engineering. ZHAN Qimin, president of PKUHSC, met with the delegation.
During the talks, president ZHAN Qimin spoke highly of the existing cooperation between the two sides, especially the first "China-UK International Clinical Genomics Training Workshop", which was well received by clinicians. ZHAN Qimin also briefed the delegation on the development strategies of Peking University Medical Sciences and the +X development plans for clinical medicine. President Rothwell said that, University of Manchester is also committed to promoting the interdisciplinary convergence of medical sciences with other frontier advanced disciplines, and University of Manchester and PKUHSC can complement each other's strengths through cooperation.
  The two sides also explored the possibility of expanding cooperation in cancer research, medical imaging, bio-engineering and other fields while strengthening the previous cooperation in genetics, and the possibility of combining the development of medical sciences with bioinformatics, big data and material science. In addition, the two sides had discussions on various ways of cooperation such as increasing student exchange programs and MD-PhD projects.
Written by: WU Zhaoxia
Edited by: Liu Xin
TOP