Home» News&Events» News» Inauguration Held for PKU Third Hospital's Hospital-Enterprise Joint Research and Development Center
Inauguration Held for PKU Third Hospital's Hospital-Enterprise Joint Research and Development Center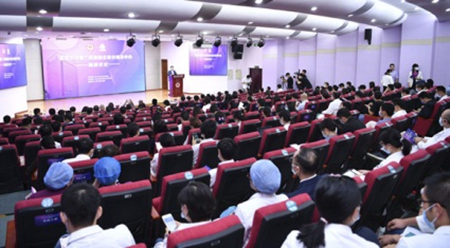 On September 18, the inauguration ceremony was held for Peking University Third Hospital's Center for Hospital-Enterprise Joint Research and Development at the Hospital Science Hall. Over two hundred people were present at the ceremony, including Qiao Jie, PKU Vice Executive President, President of PKU Health Science Center, and President of PKUTH, Zhang Qiang, Chairman of the Board and CEO of the United Imaging Healthcare, Li Jie, Chairman of the Board of the Humanwell Healthcare, Lu Sijia, Chairman of the Board of the Suzhou Yikon Medical Testing Co. Ltd., Lu Xin'an, Chief Medical Officer of Beijing Immunochina Pharmaceutical Co. Ltd., Wang Yong, General Manager of Vcanbio Cell and Gene Engineering Corporation Ltd., and some of the PKU leaders, persons in charge from PKUTH's multiple joint centers for research and development, deans and leading talents from some clinical departments.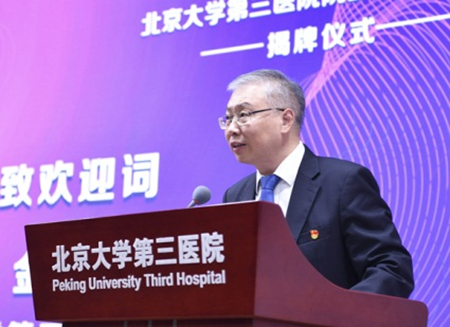 Jin Changxiao, PKUTH's Party Secretary introduced that the establishment of the hospital-enterprise joint center was an innovation in the organization system, an exploration in the cooperation mode, and a trial in the ecological chain. It is problem-oriented and need-driven, and will focus on practice carrier, policy guarantee, and environment building. With the continuous effort in innovation subjects, innovation resources, and innovation environment, it will strengthen enterprise's ability to upgrade technology and improve hospital's efficiency in innovating system.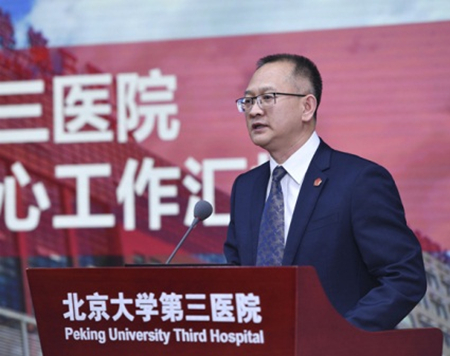 Song Lichun, PKUTH Vice President, remarked that with active attempts and organization, PKUTH has established the innovation transformation from the top design, systematic innovation, resource integration, to the practice procedures, internal management, and service process. He expressed the hope that the research teams could persist in the practical working style of seeking truth, and accelerate the realization of innovation transformation, so as to benefit mutual achievement and development, and people's welfare.
  PKUTH leaders and enterprise representatives unveiled the plates for the following centers: PKUTH-United Imaging Joint Center for Research and Development in Intelligent Imaging, PKUTH-Humanwell Healthcare Joint Center for Research and Development in Innovative Medicine, PKUTH-Yikon Joint Center for Research and Development in Health Care Genetic Testing, PKUTH-Immunochina Joint Center for Research and Development in CAR-T Cell Therapy, and PKUTH-Vcanbio Joint Center for Research and Development in Cell Storage and Application.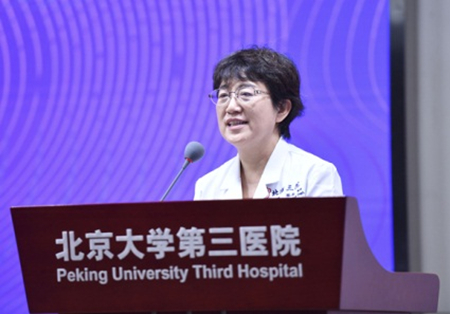 In the end, Qiao Jie made the concluding speech by affirming both the hospital and the enterprises' efforts in carrying out the full-range and multi-area research and development and transformation collaboration. She commented that PKUTH's hospital-enterprise joint research and development has formed a relatively perfect, definite, high-efficient, and compliant management system. She expected that research teams would push forward the landing of transformation of high quality research and development achievements.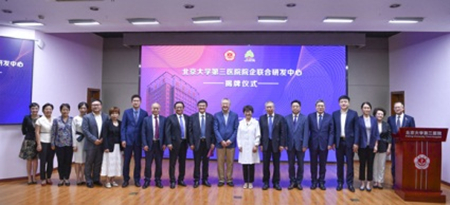 Written by: Lang Lang
  Edited by: Liu Xin
  Source: PKUTH
TOP