PKU Medicine Professor Receives China Charity Award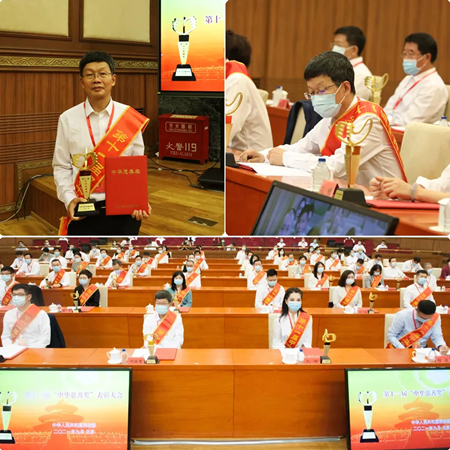 Prof. Liu Haiying, Chief of Spinal Surgery at Peking University People's Hospital (PUPH), won China Charity Award as an Outstanding Charity Role Model in a ceremony held on September 5 at the Ministry of Civil Affairs. The award, which just concluded its 11th cycle, is the highest of its kind given by the Chinese government.
  Over the years, Prof. Liu and his teams at the PUPH Department of Spinal Surgery and the Beijing Haiying Spine Health Commonweal Foundation have spent their weekends and holidays bringing free healthcare to economically-challenged people in central and western parts of China. To capture their feat, the numbers speak for themselves:
  200,000 kilometers have they traveled;
  43 poverty-stricken counties from 16 provinces and autonomous regions have witnessed their philanthropic acts;
  6,000 patients in remote rural areas have received free consultations;
  50,000 juniors have been screened for scoliosis;
  162 patients with severe spinal disorders have been treated;
  118 families that had slipped back into poverty because of illness have been given renewed hope for the better;
  19 national relief centers for spinal diseases, 3 working stations for screening and relief of juvenile scoliosis, and 9 working stations for expert consultations have been established; and
  Thousands of practitioners at primary care have received spine health-related trainings.
  As founding chief of the PUPH Department of Spinal Surgery, Prof. Liu has been working there since 1997 when he finished his studies in Germany. The department is China's first independently standing division devoted to spinal surgery and a leader in the diagnosis and treatment of severe spinal deformities and degenerative diseases. Over the years, it has completed more than 10,000 spinal surgeries, almost free of complications; and performing over 800 surgeries himself annually, Prof. Liu is one of the most productive surgeons in the field.
  Beijing Haiying Spine Health Commonweal Foundation, on the other hand, stemmed from the inspiration of a donation. In 2006, doctors and nurses at the PUPH launched a spontaneous donation so that Ma Xiucai, an orphan of the Yi ethnic group from Sichuan, could receive spinal surgery. The story had a happy ending where Xiucai fully recovered after the surgery and went on to became a university student. Prof. Liu, who performed the surgery, thus began to wonder the prospect of combining the expertise of his team with larger volume of donations, which eventually led to the establishment of the foundation in the November of 2011.
  The foundation marks several firsts: it is the first charitable organization devoted to spinal diseases in China; it is one of the first foundations run by technocrats; and it champions a new model of doctor-patient alliance, with initial fund coming solely from Prof. Liu and his former patients.
  Prof. Liu was also very active in the national response against COVID-19. When the PUPH dispatched its medical mission to Wuhan at the beginning of 2020, Prof. Liu and colleagues raised fund to purchase clothes and other necessities for the 134 team members. They ordered customized vests with the logo of the PUPH and encouraging slogans, paying tribute to the front-line responders.
  On receiving the China Charity Award, Prof. Liu pledged himself and his teams to continue the pro bono relief efforts for patients of spinal diseases, work with government and non-government partners to fight against disease-induced poverty, and contribute to common prosperity.
  Written by: Fan Xiaofei
  Edited by: Liu Xin
TOP