Home» News&Events» News» Speech by Qiao Jie at the 2021 School Opening Ceremony of Peking University Health Science Center
Speech by Qiao Jie at the 2021 School Opening Ceremony of Peking University Health Science Center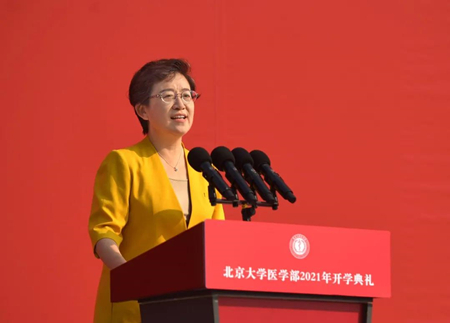 Qiao Jie, Executive Vice President of PKU, President of PKUHSC, Academician of Chinese Academy of Engineering
  Dear teachers and students,
  Parents, alumni and friends both online and offline,
  Good morning!
  On this special day of golden September, when the wind is mild and clear and the air is lovely and cool,we are here to solemnly hold the opening ceremony of 2021 freshmen. First of all, on behalf of all the teachers, students and staff of Peking University Health Science Center (PKUHSC), I would like to extend my heartfelt congratulations and warmest welcome to more than 2,000 new students who have joined PKU Medicine!
  Congratulations on your unremitting efforts to stand out from thousands of students and become a member of China's top medical university; We warmly welcome you to join Houdao Beiyi (PKUHSC with the spirit of honesty and kindness), a university with profound cultural heritage, and become a member of this warm family. Entering the university campus is the first step for you to really leave your own small home and enter the society. Since then, no matter where you are, you have a common and loud name – "Beiyi people or PKUHSC people".
  I believe that many of you have a certain understanding of PKUHSC before you are admitted to this university. Founded on October 26, 1912, PKUHSC was China's first government-funded school designated to teach western medicine. Integrating medical teaching and research, and involving the whole process of undergraduate, graduate and continuing education, PKUHSC now has 89 doctoral degree authorization units, 95 master's degree authorization units and 9 post-doctoral mobile stations, with the widest coverage and the largest number of disciplines in China; Besides, PKUHSC has 3 national first-class key disciplines, 12 national second-class key disciplines, as well as national key laboratories, national engineering laboratories, national clinical medicine research centers and national medical centers, international joint research centers, and more than 60 provincial and ministerial laboratories and international science and technology cooperation bases, and so on.
  All these have enabled the spirit of PKUHSC to be inherited from generation to generation, and PKUHSC people never fail to fulfill our mission. We have assumed the responsibility of protecting people's health and national security whenever and wherever we are needed by our country.
  General He Cheng, a graduate of 1926, is a pioneer in the health cause of the Chinese Red Army; Academician Gu Fangzhou, a graduate of 1950, is known as the father of "China's polio vaccine". The well-known "little sugar pill", of which he participated in the research and development, has helped thousands of children stay away from the pain of disability; Professor Tu Youyou, a graduate of 1955, is the first Chinese native scientist to win the Nobel Prize. Thanks to her 40 years of persistence, artemisinin has saved the lives of millions of people all over the world; Academician Zhong Nanshan, a 1960 graduate now in his 80s, is still strong and walking fast, leading the medical staff of the whole country to fight against the COVID-19 pandemic.
  And when such PKUHSC people gather together, the spirit of PKUHSC will burst out with greater strength. Whether during the fight against SARS or in the work of earthquake relief, PKU medical staff organized medical teams to the front line in no time, dared to undertake the responsibility, and became the "ballast" to deal with major national public health emergencies; Whether it is for the Beijing Olympic Games in 2008 or for the Winter Olympic Games to be opened in 2022, PKU medical staff have always given out in silence. In the face of the sudden attack of COVID-19, more than 400 medical workers of Peking University's national aid medical team to Hubei went retrograde to undertake the task of intensive care. As a member of that medical team, during the 80 days and nights of our fighting with everyone, I saw that before entering the isolation ward, the team members were filled with fighting spirit and confidence, waving V-sign for victory; I also saw the bright smiling faces when the masks were taken off, although their faces were strangled with deep traces; and I also saw their calmness when discussing and analyzing the condition and formulating treatment plans; Of course, the happiest thing was for me to see the relief and joy expressed by the attending doctors and competent nurses when the critically ill patients returned to safety.
  This is PKU medicine; This is PKUHSC people.
  Harbor our family, our country and the world, and be the pillars of China. General secretary Xi Jinping said in his speech at the 100th anniversary of the founding of the Communist Party of China, "Chinese youth in the new era should take realizing the great rejuvenation of China as their own responsibility and seize the day and live it to the fullest". We are delighted to see that more and more students choose to "walk with their motherland". I hope everyone of you will become a responsible and caring PKUHSC doctor, as Mr. Li Dazhao wrote, "to promote the civilization for the world and create happiness for mankind".
  Students, you have chosen the best place to devote yourselves to the medical cause in the best times. How can you not love PKU Medicine or not live up to it when it is a place with great virtue and sincerity, a place where people always dare to undertake responsibilities at critical times, and a place where masters gather? So today, to all of you present here, I'd also like to give you three expectations:
  The first expectation: be learned and then become a doctor.
  Receiving the university's admission letter is only a temporary victory for you, so you must start all over again when you step into the university. In PKU Medicine, the spirit of being down-to-earth, diligent, honest and friendly is the foundation, being rigorous, realistic and dedicated is our routine, maintaining perseverance and constant original aspiration is the goal. Here, PKUHSC has everything you want!
  Currently, the new science and technology building in the northwest district of PKUHSC campus has been completed, covering an area of 83,000 square meters. It is the largest single building of PKU and will provide you with the most advanced scientific research platform for learning, thinking and research; The gymnasium on your right is the best among all the colleges and universities in Beijing; The library is being rebuilt day and night so as to provide a better place for your study and deep cultivation; The transformation work of our canteen has been completed successfully, spreading the smell of home.
  PKUHSC has gathered domestic masters and experts in the field of medical sciences. Mr. Han Jisheng, professor of School of Basic Medical Sciences and academician of Chinese Academy of Sciences, is now 93 years old but still working on the front line of scientific research and teaching. His life creed is: "for any person, the only thing he can master is not to ease up on his work, but try to make full use of every minute second of his life to do everything he can do.". It is this lifelong diligence and pursuit that has made him achieve his great cause in the field of acupuncture analgesia and pain medicine. Professor Ye Xinshan, the second prize winner of the National Natural Science Award, never afraid of challenges, is engaged in sugar science research known as the "black box". For more than 20 years, the lights in his office have almost always been the last to go out in the Guozhong Building. There are many such models at PKUHSC. I hope you will make full use of our resource superiorities, seek advice from distinguished masters, and learn from honorable predecessors and models.
  The second expectation: Be virtuous and sincere, and then be a doctor.
  I believe many of you have heard of the saying " To cure sometimes; To relieve often; To comfort always ". This is a doctor's epitaph. The reason why this saying can travel beyond the limitations of time and space and has long been regarded as a motto by doctors all over the world is that it reflects the true meaning of medicine. Superb medical skills are very important, but noble morality and virtues are the foundation of a good doctor. Professor Qu Mianyu, a former president of PKUHSC and founder of sports medicine in new China, as a sports medicine expert, has participated in the consultation and finalization of therapeutic schemes for national top athletes for many times. Many athletes such as Li Ning, Lang Ping and Liu Guoliang were once his patients.
  A recent memory video of Liu Guoliang has been widely circulated on the Internet, in which he said that once he came to the Sports Medicine of PKU Third Hospital for injured shoulders and broken tendon. After detailed examination, President Qu told him that the injury was not serious and could be treated in a conservative way so as to allow him to participate in the upcoming World Championships. In the end, Liu Guoliang not only won the championship at the world championships and the Grand Slam he longed for, but also maintained his sports career for many years. When talking about this story with his pupils, Liu Guoliang especially thanked Professor Qu for his "kindness of not telling". Based on his rich experience, President Qu accurately predicted that the rupture of a tendon would not affect Liu Guoliang's future life. In order not to discourage his fighting spirit, Professor Qu did not tell Liu the specific injury at that time, but guided him to recover scientifically and helped him return to the court. Not only curing people of diseases but also relieving people from worries---this is what a great doctor does.
  Being a great doctor means two things. One is being exquisite, which requires doctors to have superb medical skills. The other is being sincere, which requires doctors to have noble morality and empathy. In addition to exquisiteness and sincerity, we should also have wisdom, responsibility and decision-making ability. Whether you are a resident who has just begun to work, or a senior professor who is almost middle-aged and has accumulated a lot of experience, when a patient enters your consulting room, he entrusts his health to you. And we must live up to this trust.
  Therefore, I hope you, as medical students, will always remember to abide by medical ethics, love first, study hard, and help people with your superb medical skills and noble medical morality in the future.
  The third expectation: Ponder deeply, and then be a doctor.
  To grow into excellent medical scientists, we cannot do without in-depth thinking. We should apply the results of cutting-edge basic research and interdisciplinary thinking to our clinical practice. Professor Yan Renying, a famous expert in obstetrics and gynecology in China, found that the main cause of neonatal death at that time was neural tube malformation, which was related to the lack of folic acid in pregnant women. Under her suggestion, it became a national act to supplement folic acid to prevent neural tube malformations in women, which has helped reduce the incidence of neural tube malformations in China by 50%.
  From my own experience, I've learned that in clinical practice, we have to face patients from all over the country with various infertile difficulties, and even patients with genetic diseases want to have healthy children. However, the accuracy and success rate of existing diagnosis and treatment technologies are relatively low. So, how can we solve this problem? The 40 years of study and work at PKUHSC has laid a solid foundation for us. Under the guidance of Professor Zhang Lizhu, the mother of the first test tube baby in the mainland, we have the ability to cure many patients, yet we have also lost many battles during the many years of exploration work. In 2010, I learned that Xie Xiaoliang, a graduate of Chemistry of PKU, invented a new single-cell sequencing technology for the study of cancer cell heterogeneity. I immediately began to wonder whether this new technology could be used for embryonic development research and embryonic diagnosis of single gene disease at the same time? Upon discussion, we found that our thoughts coincided with each other. Due to our joint efforts, we developed an efficient MARSALA embryo diagnosis technology. This technology has now helped us detect and diagnose hundreds of single gene disease that could not be diagnosed before embryo implantation in the past, and has now been extended to nearly 100 reproductive centers across the country and even the world, giving new hope to thousands of families. This is the power of interdiscipline.
  Students, you should make full use of the high-quality platform and rich educational resources provided by PKU and PKU Medicine, ponder frequently, take the initiative, make constant exploration, take over the commanding heights in the field of medical scientific research, and lead the development of medicine with scientific and technological innovation.
  The year of 2021 is a year of special historic significance. Our great motherland has embarked on a new journey towards the second Centennial Goal. At this historic moment, you have become the freshmen of PKUHSC, and from this moment on, your personal development will be more closely linked with the destiny of the motherland.
  Seeing your vibrant and youthful faces, I am very confident that in a few years, you will become a medical scientist, a hospital manager or a Nightingale nurse. You will all be the pillars of our country. The teachers will work together with you. I also hope you can keep your original aspiration and be a person with love in your heart, with responsibility on your shoulders and with light of honor on your body! The future of PKU Medicine will be created by you; PKU Medicine is bound to have a more brilliant future because of your participation and our persistence!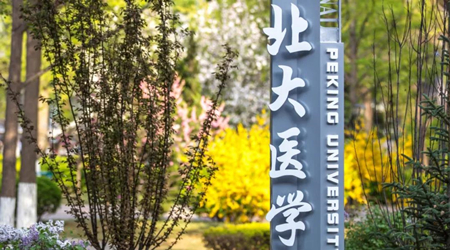 Written by: Wu Zhaoxia
  Edited by:Liu Xin
  Source: Department of Publicity, PKUHSC
TOP