Advanced Dental Implant Symposium Concludes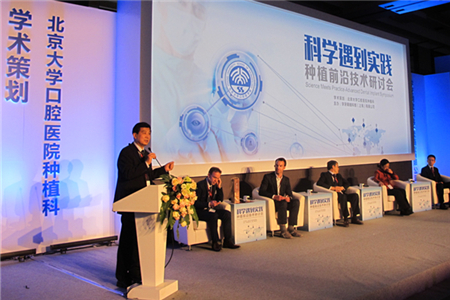 The Advanced Dental Implant Symposium was held in Beijing on April 20 and 21, where an audience of over 480 people heard from multiple internationally renowned experts in the field. This symposium was themed "Science Meets Practice", and was part of the events celebrating the 20th anniversary of the Department of Dental Implant at Peking University Hospital of Stomatology.
  In the symposium, Dr. Torsten Jemt, former Director of the Brånemark Clinic at the University of Gothenburg, talked about how to interpret data from dental implant literature and how to design clinical research. Dr. Daniel Edelhoff, who is Dean of the Department of Prosthodontics and Dental Materials at the University of Munich and President of German Association of Dental Technology, showed the aesthetic characteristics of different all-ceramic crowns, the latest development and prospect of CAD/CAM dentistry, and the clinical revolution brought about by all-ceramic restoration. Domestic speakers also shared their clinical experiences and research findings.
  Written by: Fan Xiaofei
  Edited by:LiuXin
TOP