Home» News&Events» News» Peking University Organizes Theme Activities for the 4th Chinese Doctors' Day
Peking University Organizes Theme Activities for the 4th Chinese Doctors' Day
  On August 15, to celebrate the fourth Chinese Doctors' Day, theme activities titled "Constructing with the same mind, shouldering doctors' responsibilities" and exchange conference of Peking University's first observation medical documentary "Record Outside the Heart" were held in PKU Health Science Center.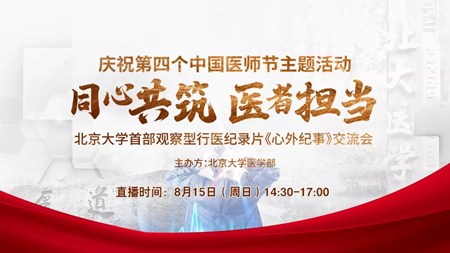 Funded by PKU Education Foundation and PKU White Angel Guardian Foundation, the documentary "Record Outside the Heart" was launched by PKUHSC. As a full record of the treatment of a high-risk case, the documentary presents a truthful and complete picture of how a group of doctors bravely took on the highly difficult surgery and achieved the final success during the process of clinical treatment of a high-risk surgical case. The great details are real and touching, the narrative warm and open-ended, which vividly conveys the implications of doctors' responsibilities and the doctor-patient trust.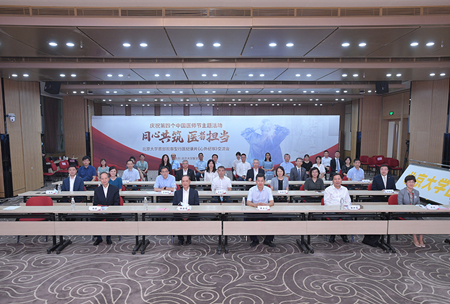 Present at the conference were Academician Han Qide, Vice Chairman of the 10th and 11th National People's Congress Standing Committee and Vice Chairman of the 12th Committee of the Chinese People's Political Consultative Conference, and Honorary Chairman of China Association for Science and Technology, Li Dachuan, Vice Director of the Bureau of Medical Administration of China National Health Commission, Yang Min, Vice President of Chinese Medical Doctor Association, Guan Zhongjun, Party Secretary of Beijing Tiantan Hospital of Capital Medical University, Li Wei, Honorary Trustee of PKU, Board Chairman of PKU Entrepreneur Club, founder partner of Shenzhen Green Pine Capital Partners, and initiator of PKU White Angel Guardian Foundation, Academician Qiao Jie, PKU Executive Vice President and President of PKUHSC and PKU Third Hospital, Xu Shandong, Vice Party Secretary of PKUHSC, and Geng Shu, Vice Secretary-General of PKU Education Foundation. Media representatives, leaders from PKUHSC affiliated hospitals, doctor representatives, and leaders from some schools and departments of PKUHSC also attended the conference. The attendees had discussions with the chief creators of the documentary and experts on the theme and value of the documentary and the topic of doctors' responsibilities.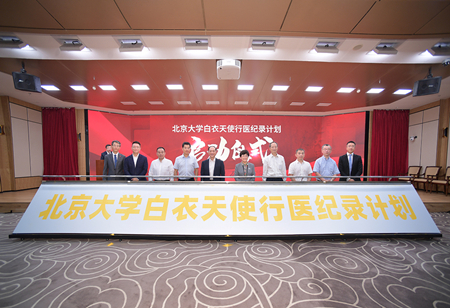 Guests at the meeting witnessed the launching of "PKU White Angel Medical Practice Recording Project." Reporters from Xinhua News Agency, People Daily, Health News and other national mainstream media shared their feelings after watching the documentary and held discussions on medical humanity, doctor-patient relationship, and medical education. In future, PKUHSC will continue to explore typical cases from different departments and different hospitals, to advocate the spirit of hou dao to the society via documentary. In the meanwhile, it is expected to narrow the distance between the public and the doctors, to enhance the mutual understanding and trust between doctors and patients, and to effectively promote doctor-patient harmony through this kind of documentary.
  Written by: Lang Lang
  Edited by: Liu Xin
  Source: Office of Publicity
TOP