Home» News&Events» News» Prof. Wang Yufeng Awarded Outstanding Psychiatrist at 13th Annual Meeting of Chinese Psychiatrist Association
Prof. Wang Yufeng Awarded Outstanding Psychiatrist at 13th Annual Meeting of Chinese Psychiatrist Association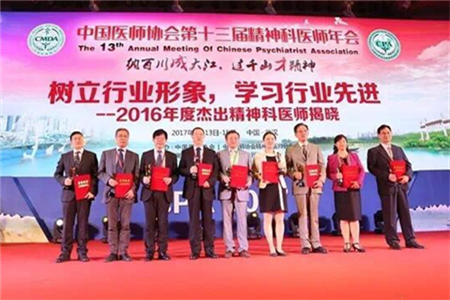 Prof. Wang Yufeng from Peking University Sixth Hospital was awarded Outstanding Psychiatrist at the 13th annual meeting of the Chinese Psychiatrist Association.
  Prof. Wang is China's first domestically educated PhD of psychiatry and mental health. She is the one who brought sensory integration therapy to China. She developed local norms for assessment of sensory integration in Chinese children and helped over 80 health facilities around the country adopt this therapy in their practices.
  Over the years, Prof. Wang has held psychological training camps for more than a thousand pediatricians and primary/middle school tutors.
  The team led by Prof. Wang is a leader in both scientific and clinical research of attention-deficit/hyperactivity disorder (ADHD) in China. It has undertaken over 10 national and ministerial projects, published more than 200 papers, and received Chinese Medical Association Science & Technology Award Second Class as well as four Ministerial S&T Progress Awards.
  Written by: Fan Xiaofei
  Edited by:LiuXin
  Source: Peking University Sixth Hospital
TOP