Home» News&Events» News» Research Salon "Cancer Frontier" Jointly Held by PKUIICR and PKU-YBIMRC
Research Salon "Cancer Frontier" Jointly Held by PKUIICR and PKU-YBIMRC

  On June 22, Peking University International Institute of Cancer Research (PKUIICR) and Peking University-Yunnan Baiyao International Medical Research Center (PKU-YBIMRC) jointly held the fourth research salon "Cancer Frontier" and the second PKU-YBIMRC academic exchange meeting.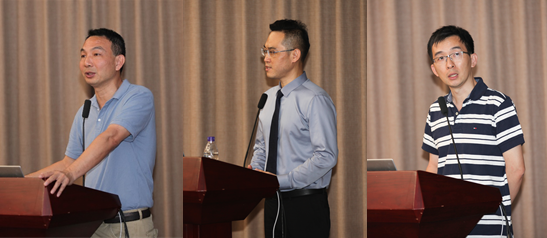 At the meeting, researchers Wei Xunbin, Han Guojun, and Lai Binbin from PKU Department of Biomedical Engineering made keynote speeches respectively. Attendees at the meeting had in-depth exchange and discussion about the development and future direction of cancer research.
  In the end, Academician Zhan Qimin, Director of PKUIICR, PKU-YBIMRC, and Shenzhen Bay Laboratory, pointed out that there was still a long way and a heavy duty for cancer research. He hoped that researchers would not only pay attention to the frontier scientific issues, but also broaden their thoughts on scientific research and apply philosophical way of thinking to analyze and solve problems, so as to push forward the development of medicine. At the same time, he emphasized that by making full use of the cross-disciplinary advantage, medical research should be ground-breaking and innovating, and capable of promoting the building of "Double-First Class", in order to better serve the Healthy China strategy.
  Written by: Lang Lang
  Edited by: Liu Xin
  Source: PKUIICR, PKU-YBIMRC
TOP