Home» News&Events» News» Ji Jiafu Assumes the Role of President of International Gastric Cancer Association
Ji Jiafu Assumes the Role of President of International Gastric Cancer Association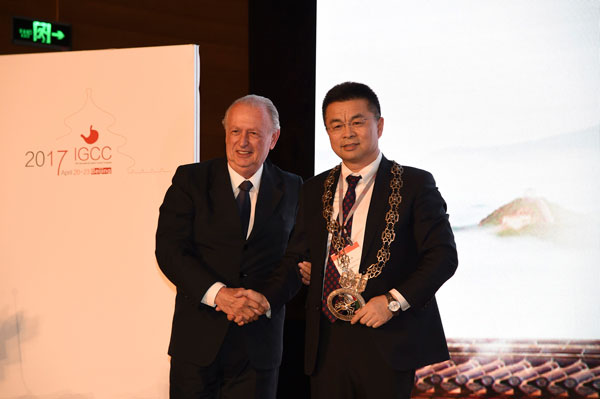 On Apr 23, the 12th International Gastric Cancer Congress (IGCC) concluded in Beijing. A topical issue during the conference was that Prof Ji Jiafu, President of Peking University Cancer Hospital, assumed the role of the President of International Gastric Cancer Association (IGCA).
  "This heavy chain symbolizes our massive responsibility to overcome gastric cancer." Ji Jiafu said with deep emotion in his inauguration speech.
  On Jun 6, 2015, Prof Ji Jiafu received the association flag from the then President Bruno Zilberstein of IGCA, which officially made China the host country of the 12th IGCC. It was the first time for our country to organize a conference at the world's highest level in the field of gastric cancer, which indicates that our endeavors in the diagnosis and treatment of gastric cancer has been acknowledged by peer professionals from around the world.
  Written by: Lang Lang
  Edited by:LiuXin
TOP