Home» News&Events» News» Peking University Launches Lancet Commission on 70 years of RMNCAH in China
Peking University Launches Lancet Commission on 70 years of RMNCAH in China
  A Lancet Commission on 70 years of women's reproductive, maternal, newborn, child, and adolescent health (RMNCAH) in China was launched on the afternoon of May 28 in a ceremony cohosted by Peking University, Chinese Academy of Engineering, National Clinical Research Center for Obstetrics and Gynecology, National Office for Maternal and Child Health Surveillance of China, and The Lancet. The event was co-organized by China Medical Women's Association, International Health Exchange and Cooperation Center of the National Health Commission, and the World Health Organization.
  The Lancet Commission was co-chaired by Prof. Qiao Jie, Executive Vice-President of Peking University, President of Peking University Health Science Center, and President of Peking University Third Hospital, Dr. Song Li, Director-General for Maternal and Child Health of the National Health Commission, and Prof. Zhu Jun, Director of the National Office for Maternal and Child Health Surveillance of China. In the three years leading to its launch, 31 commissioners, all from renowned universities and research institutes, along with staff members, had contributed to the completion.
  The launch ceremony was a sensation in the RMNCAH field, with a live audience of 300 thousand. By the end of the day, it had been viewed more than 1.7 million times.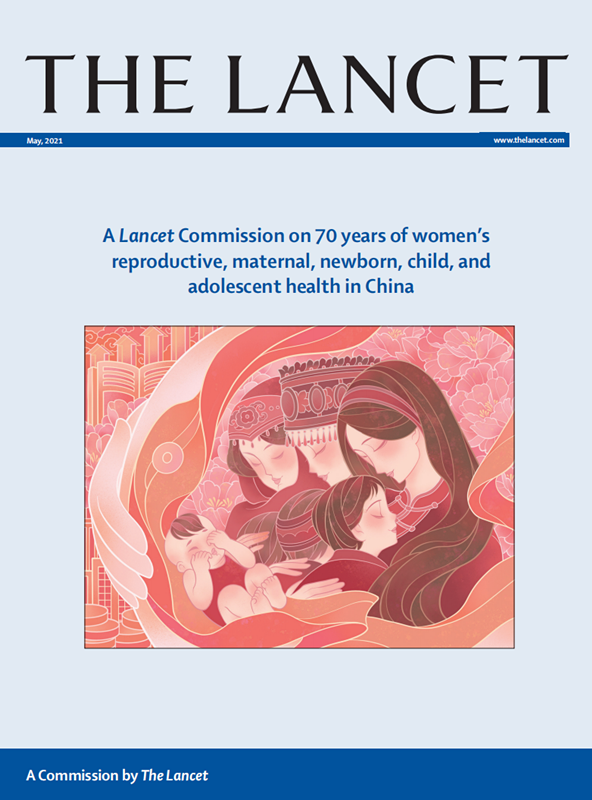 Cover of the Lancet Commission
  The Lancet Commission reviewed results and lessons in RMNCAH from China's development and reform over the past 70 years, as manifested in the high-quality surveillance data – including some exclusive data – that it had collected and analyzed from reliable national and international sources. The Lancet Commission identified gaps and challenges in realizing Healthy China 2030 and achieving Sustainable Development Goals, put forward action plans and recommendations for the upcoming decade, and reiterated the vision of building a community of shared health for mankind.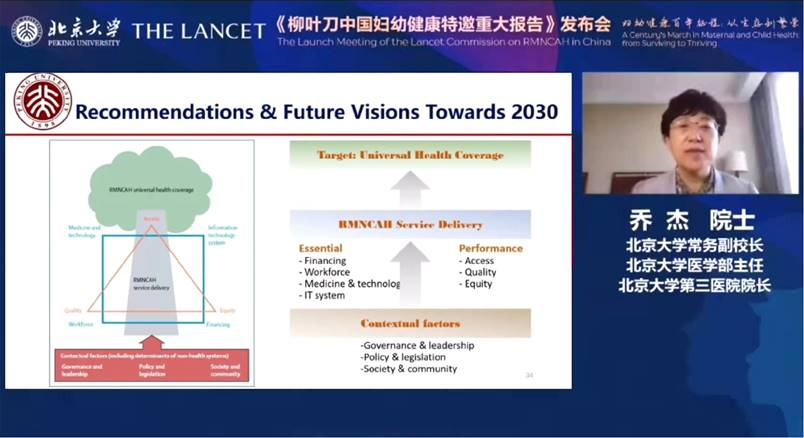 Prof. Qiao gives keynote speech
  During the launch meeting, the three co-chairs presented how they interpreted the Lancet Commission and held panel discussion on opportunities and challenges in maternal and child health. The panelists included Dr. Yu Yanhong, member of the Leading Party Members' Group of the National Health Commission and Deputy Director of the State Administration of Traditional Chinese Medicine, Prof. Wang Bo, Vice President of Peking University, Dr. Richard Horton, Editor-in-Chief of The Lancet, Dr. Helana Hui Wang, Asia Executive Editor of The Lancet, Prof. Therese Hesketh from University College London/ Zhejiang University, Prof. George Patton from the University of Melbourne, Prof. Carine Rosmans and Prof. Joy Lawn from London School of Hygiene & Tropical Medicine, Prof. Robert E. Black from Johns Hopkins Bloomberg School of Public Health, Prof. Jiang Fan from Shanghai Jiao Tong University, Prof. Ma Jun from Peking University, and Prof. Pan Ruyan from China Maternal and Child Health Association.
  Written by: Fan Xiaofei
  Edited by: Liu Xin
  Source: Peking University Third Hospital
TOP