PKUHSC Vice President Speaks at 2021 AAHC Global Innovation Forum
  Prof. Zhang Ning, Vice President and Director for Scientific Research at Peking University Health Science Center (PKUHSC), spoke on April 19 at the 2021 Global Innovation Forum hosted by the Association of Academic Health Centers (AAHC).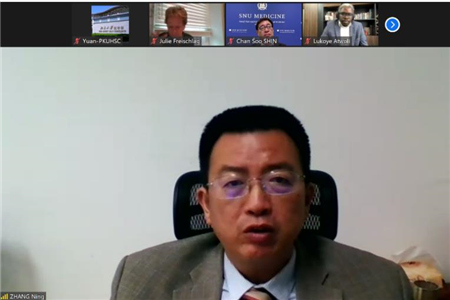 Taking the Michigan Medicine-PKUHSC Joint Institute (JI) for Translational and Clinical Research as an example, Prof. Zhang reviewed efforts by the PKUHSC in building platforms for international cooperation. It was this JI approach, an award-winning approach highly-recognized by the Ministry of Education and the Ministry of Science and Technology, that had laid the foundation for further cooperation of the PKUHSC with King's College London, University of Manchester, Technical University of Munich, Ulm University, Juntendo University, and University of Melbourne.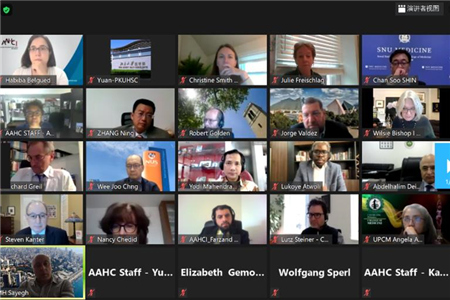 The 2021 Global Innovation Forum was themed "Collaboration Drives Innovation", where over 40 participants, AAHC President and CEO Steven L. Kanter included, discussed the critical role of academic health center partnerships and online alternatives during the Covid-19 pandemic.
  The AAHC currently has as its members 107 medical schools.
  Written by: Fan Xiaofei
  Edited by: Liu Xin
TOP