Home» News&Events» News» ICBC Beijing Branch and Peking University Health Science Center Sign Strategic Cooperation Agreement
ICBC Beijing Branch and Peking University Health Science Center Sign Strategic Cooperation Agreement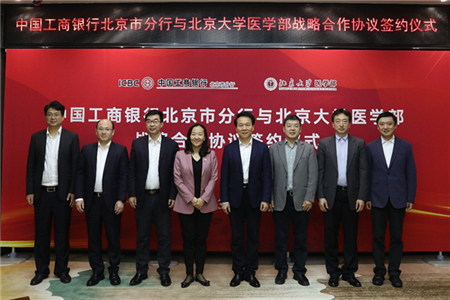 On March 12, the Strategic Cooperation Agreement was signed between the Beijing Branch of Industrial and Commercial Bank of China (ICBC) and Peking University Health Science Center (PKUHSC) at the Conference Center of PKUHSC.
  Zhan Qimin, president of PKUHSC, expressed his gratitude to ICBC for all its support over the years. He pointed out that ICBC is the leading bank in China's banking industry and the largest bank in the world in terms of asset scale, and PKUHSC is the vanguard and leader of medical education, scientific research and medical services in China. The two sides have a very good foundation for cooperation. He expressed the hope that both sides will give a full play to their respective advantages in the next step, establish closer cooperative relations in the construction of "Double First-Class" university and information construction, and become permanent strategic partners.
  Zhang Zhangao, vice president of ICBC Beijing branch, spoke highly of PKUHSC's contribution to China's medical sciences and education, especially its contribution to the fight against COVID-19 pandemic. She said that providing satisfactory banking services for education and medical care is an important responsibility of ICBC. The signing of this agreement is not only a further intensification of the good cooperative relationship between the two sides, but also a new starting point for a closer and more practical partnership in the next step.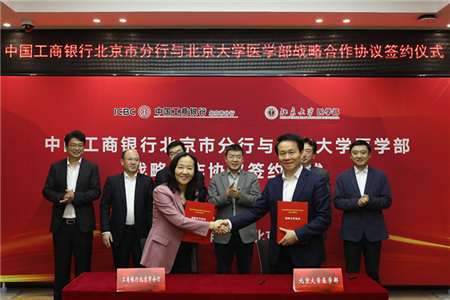 Written by: Wu Zhaoxia
  Edited by:Liu Xin
TOP