Home» News&Events» News» Nursing Department of PKU First Hospital Attends Virtual BPSO Knowledge Exchange Symposium
Nursing Department of PKU First Hospital Attends Virtual BPSO Knowledge Exchange Symposium
  The Best Practice Spotlight Organization (BPSO) of the Registered Nurses' Association of Ontario, Canada (RNAO) has recently organized a Virtual Knowledge Exchange Symposium, which more than 280 people participated worldwide. Peking University First Hospital, one of the BPSOs in China, had representatives attending the webinar: Vice Director Tao Zhenhui of the Nursing Department, Chief Nurse Li Jing, Chief Nurse Ye Jing of Coronary Care Unit and Liu Zhuo, representative of BPSO Champion. Ye Jing delivered a speech on behalf of PKUFH, and two posters and one video were presented.
  At the symposium, the Deputy Minister Christine Elliot of Ontario's Ministry of Health expressed her thankfulness to the attendees for their contribution to human health during the COVID-19 epidemic. In the discussion and dialog about "experience of applying RNAO's Best Practice Guide in the nursing of COVID-19 patients", Ye Jing, a member of the national medical team aiding Hubei Province, made an English speech titled "Application of 'Facilitating Client Centered Learning' in the Nursing of Critical COVID-19 Patients." Her practice was based upon the RNAO guide—"Facilitating Client Centered Learning" and was demonstrated in a thorough and clear way, which was acknowledged and highly praised by the BPSO experts present at the symposium.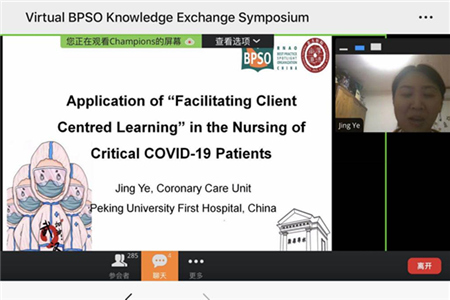 It's been the third year since PKUFH joined the RNAO, and the hospital has carried out four projects of the translation of BPSO guide. Improving clinical practice based on best evidence has gained extensive recognition among the nursing personnel. This BPSO knowledge exchange symposium not only enhanced the exchange between PKUFH's BPSO and other BPSOs from abroad, but will promote the steady development of PKUFH's evidence-based practice, further elevate the hospital's nursing quality, improve patients' prognosis, and contribute to the realization of Healthy China strategy.
  Written by: Lang Lang
  Edited by: Liu Xin
  Source: PKUFH
TOP