Home» News&Events» News» Peking University Center for Public Health and Epidemic Preparedness and Response Founded
Peking University Center for Public Health and Epidemic Preparedness and Response Founded
  On December 12, the inauguration ceremony of Peking University Center for Public Health and Epidemic Preparedness and Response (PKUPH&EPR Center) was held at Yingjie Exchange Center of Peking University. The meeting marks the beginning of the Center as a national think tank.
  More than 150 people, including leaders and guests from national ministries and commissions, research institutions, universities and research institutes, health committees and centers for disease control and prevention of some provinces and cities, as well as business circles, media circles, and the affiliated colleges, research institutes, hospitals and departments of Peking University (PKU), attended the inaugural meeting. The World Health Organization (WHO), Oxford University, Harvard University, Johns Hopkins University, UCLA, Emory University and Tsinghua University attended the meeting online.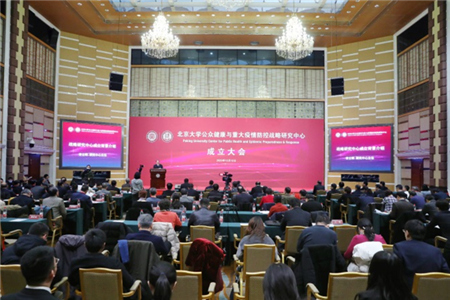 The inauguration ceremony
  Academician Zhan Qimin, executive vice president of PKU and president of Peking University Health Science Center (PKUHSC), delivered a speech on behalf of Peking University. He said that the university will integrate the development of the Center into the overall development scheme of PKU Medicine and give strong support for it as a strategic focus.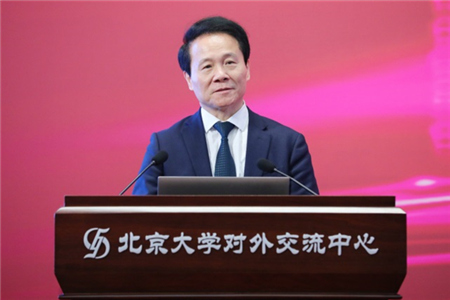 Zhan Qimin
  Hao ping, President of PKU, announced the University's decision on establishing the Center for Public Health and Epidemic Preparedness and Response (PKUPH&EPR). The Center is a physical academic institution of PKU. Li liming, distinguished Boya professor, is the director of the Center. The Center is composed of 3 committees---the Scientific Advisory Committee, the Academic Committee and the Management Committee, with professor Hao ping, PKU president, academician Han Qide, dean of the Institute of Frontier Interdisciplinary Research, and academician Zhan Qimin, PKU executive vice president and PKUHSC president as committee chairman respectively. Hao ping said that the Scientific Advisory Committee consists of a group of well-known experts from home and abroad and the Academic Committee is made up of experts in different academic fields including education and management.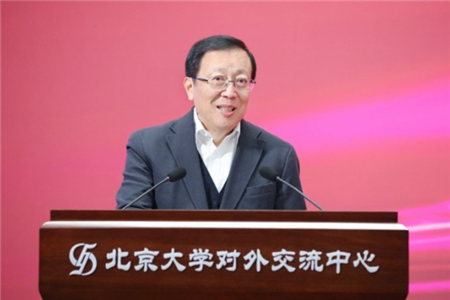 Hao Ping
  Gauden Galea, WHO representative in China, Ma Xiaowei, director of National Health Commission of China, and Margaret Chan Fung Fu-chun, dean of Vanke School of Public Health of Tsinghua University and former director general of WHO, expressed congratulations on the establishment of the Center respectively.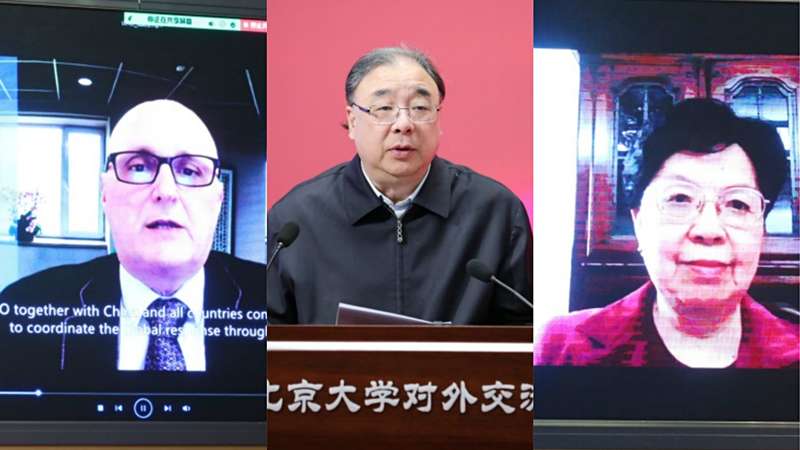 An academic symposium was held immediately after the inauguration ceremony. Li Bin, deputy director of National Health Commission of China, and Zhan Qimin, chairman of the Management Committee of the Center, respectively delivered keynote reports entitled "Comprehensively Promoting the Construction of Healthy China" and "Reflections on Medical Development in the Context of Epidemic Prevention and Control", which put forward the goals and directions for the PKUPH&EPR Center from the perspectives of national health strategy and the reform of post-epidemic medical education and public health education respectively. The participants benefited a lot from these reports.
  Written by: Wu Zhaoxia
  Edited by:Liu Xin
  Source: Peking University Center for Public Health and Epidemic Preparedness and Response
TOP