Home» News&Events» News» Taizhou Municipal Government and PKUHSC Sign Strategic Cooperation Agreement in Medicine and Health
Taizhou Municipal Government and PKUHSC Sign Strategic Cooperation Agreement in Medicine and Health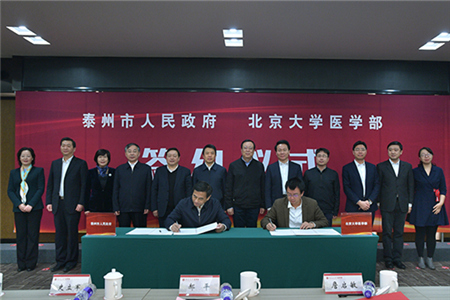 On December 7, the signing ceremony was held at Peking University Health Science Center for the strategic cooperation between the municipal government of Taizhou and PKUHSC in the field of medicine and health. Depending on their respective advantageous resources, the two parties will further promote the comprehensive cooperation in clinical trials, talent introduction and training, translation of science and technology findings, building of platforms, and health care and service.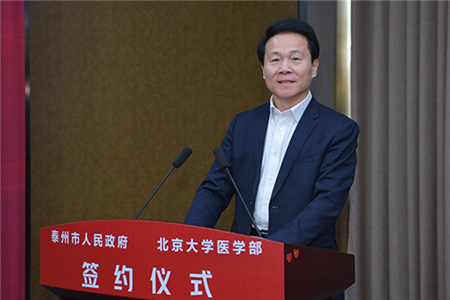 Zhan Qimin, PKU Vice Executive President and PKUHSC President, mentioned in his speech that medicine would be one of the six major comprehensive and interdisciplinary groups towards 2030. PKU Medicine will give full play to its advantages and persist in the "Four Orientations" so as to expand and extend the duty of serving the society and enrich university content building.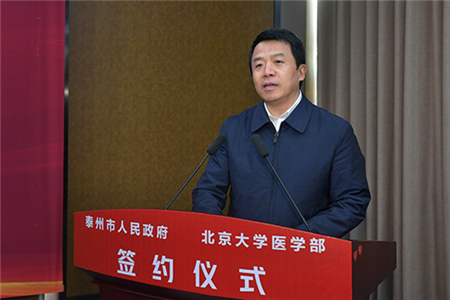 Shi Lijiun, Secretary of Taizhou Municipal Committee of the Communist Party of China and Director of Standing Committee of Taizhou Municipal People's Congress, said that the strategic cooperation marked a substantial step into the field of cooperation between university and locality, which indicated PKU's broadness of mind and sense of responsibility of serving the locality. Taizhou will treasure the opportunity of cooperating with PKUHSC and actively create first-class conditions and set up perfected platforms, in order to promote the translation of PKUHSC's innovative scientific achievements, facilitate the content building of PKU Medicine, and provide high-quality service for its extensive development.
  With the presence of leaders from both parties and attendee guests, PKUHSC Vice President Zhang Ning and Taizhou Deputy Mayor Zhang Yulin signed the Strategic Cooperation Agreement in Medicine and Health between Taizhou Municipal Government and Peking University Health Science Center. Over a hundred people attended the ceremony, including representatives from related departments from PKU and the municipal government of Taizhou, PKU alumni, and industries. After the ceremony, working meetings were held respectively for groups of scientific and teaching achievements, of medical care and health, of clinical trials, and of talents exchanges.
  Written by: Lang Lang
  Edited by: Liu Xin
  Source: Office of Publicity
TOP