Home» News&Events» News» Peking University Health Science Center Holds Conference on Research Development
Peking University Health Science Center Holds Conference on Research Development
  A conference on research development at Peking University Health Science Center (PUHSC) was held at Yifu Building on November 26.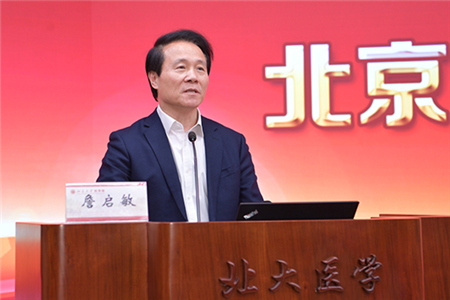 Zhan Qimin addressing the conference
  In his remarks, PUHSC President Zhan Qimin reviewed the mission, agenda, and achievements of PKU Medicine, prioritizing four tasks in the near future: 1) development of "Clinical Medicine plus X", advanced interdisciplinary studies and emerging disciplines in the 14th Five-Year Plan Period; 2) sustainability of PKU Medicine through continued success in national site accreditation, grant application, awards and recognition, disciplinary development, asset expansion, and international cooperation; 3) capacity building for research teams through enrollment and training; and 4) incentives for innovation and deployment on key areas.
  Such priorities were echoed by Vice President Zhang Ning. In addition, he said the PUHSC should build platforms, allocate resources for hospital-based research, and present success stories through social media.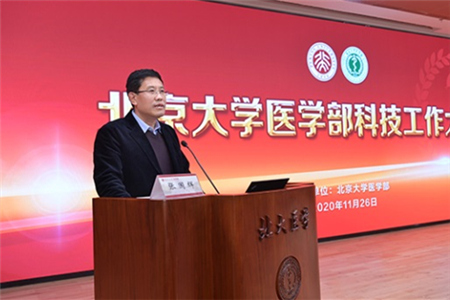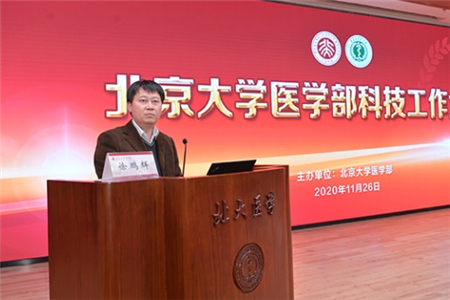 Zhang Guohui and Xu Penghui addressing the conference
  Zhang Guohui, Deputy Director-General of Science and Technology, Ministry of Education, and Xu Penghui, Director of Biotechnology and Medicine, Department of Science and Technology for Social Development, Ministry of Science and Technology, made keynote speeches at the conference.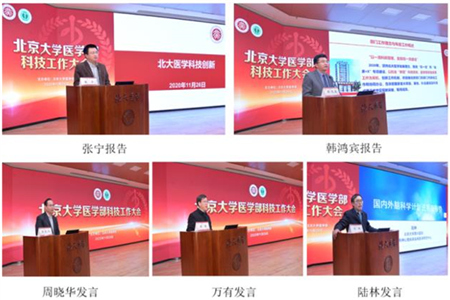 In his annual report, Han Hongbin, Director of PUHSC Department of Scientific Research and Office of Disciplinary Development, reviewed some of the highlights in research at the PUHSC in 2020 as well as in the 13th Five-Year Plan Period. He analyzed issues in the disciplines and put forward recommendations for reform.
  The conference also featured representatives of PUHSC researchers. Zhou Xiaohua, Dean of Biostatistics at the School of Public Health, Wan You, Dean of School of Basic Medical Sciences, and Lu Lin, President of Peking University Sixth Hospital, reported on disciplinary and institutional development and major research plans in their institutions.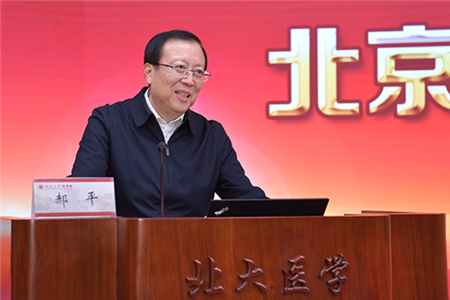 Hao Ping addressing the conference
  In his conclusion speech, President Hao Ping of Peking University spoke highly of the achievements at the PUHSC during the 13th Five-Year Plan Period, and paid tribute to health workers for their contribution in the response to COVID-19. Citing the requirement on innovation by the fifth plenary session of the 19th Central Committee of the Communist Party of China, he said PKU Medicine should continue to 1) serve national strategy in the 14th Five-Year Plan period with breakthrough results; 2) push forward "Clinical Medicine plus X" to create synergy that drives innovation; 3) translate its edge in research into resources for education; and 4) stay open to international cooperation, in order to contribute even more to the Healthy China initiative.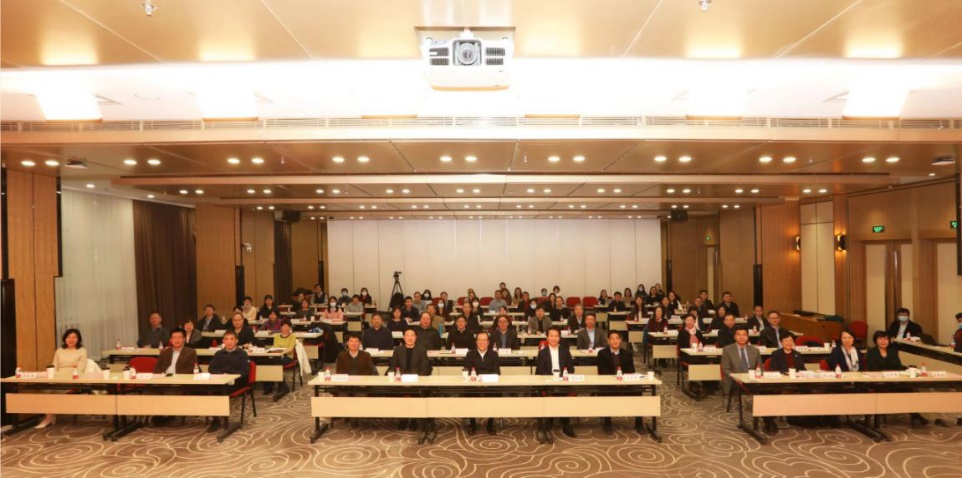 Group photo at the venue
  Written by: Fan Xiaofei
  Edited by: Liu Xin
TOP