Home» News&Events» News» PKU School of Public Health Initiates International Cooperation on Crisis Management
PKU School of Public Health Initiates International Cooperation on Crisis Management
  In March 2020, Peking University School of Public Health put forward a proposal for potential international collaboration of research and education on public health crisis management within the Association of Pacific Rim Universities (APRU; learn more at https://apru.org/). The proposal received immediate support from Saw Swee Hock School of Public Health at National University of Singapore, Fielding School of Public Health at University of California, Los Angeles, and Sydney School of Public Health at the University of Sydney. The four schools therefore formed the core group of undertakers for this initiative. With help from the APRU secretariat, the core group launched four meetings on June 15, July 14, August 25, and October 13 respectively, to track progress.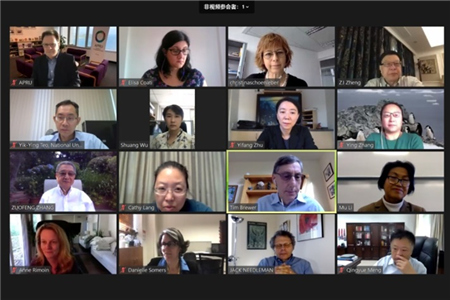 Meeting of the core group
  During the Senior International Leaders' Week held virtually by the APRU in October, Prof. Zheng Zhijie, Dean of Global Health at PKU School of Public Health, reviewed progress in advancing the initiative and took questions from the floor.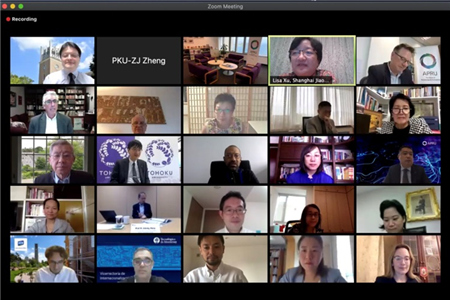 Meeting during the Senior International Leaders' Week
  Apart from collaboration with the core group, PKU School of Public Health has also worked with the APRU in other global health programs, including a leadership course launched in September. Hosted by Keck School of Medicine at the University of Southern California, this course featured Zoom-based weekly lectures to graduates of seven universities (University of Southern California, Tecnológico de Monterrey, Osaka University, Tohoku University, Nanyang Technological University, Peking University and Fudan University). Following a transcultural and multidisciplinary approach, this course aims to build leadership in these students in global health governance and foreign policy making.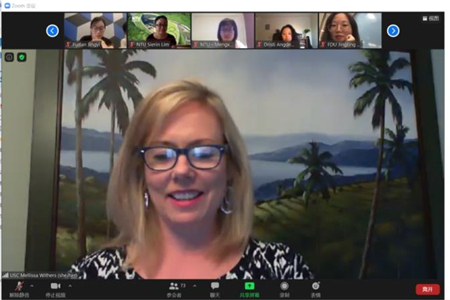 APRU course on global health leadership
  It is believed that the initiative under APRU is going to contribute to a safer and healthier world.
  Written by: Fan Xiaofei
  Edited by: Liu Xin
TOP