Home» News&Events» News» Brave the Elements, Shoulder the Responsibility, and Shine in the Bloom of Youth
Brave the Elements, Shoulder the Responsibility, and Shine in the Bloom of Youth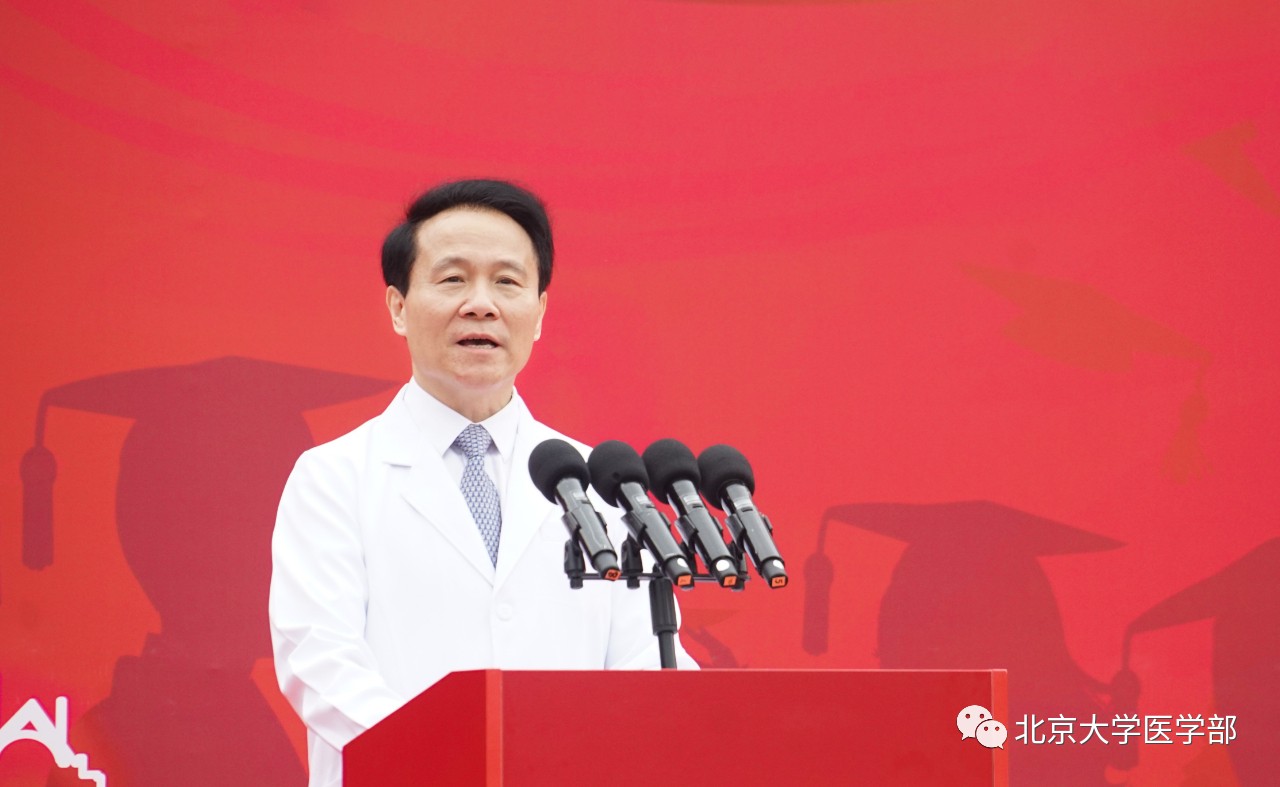 Faculty members,
  Families,
  Students,
  Good morning!
  For yet another year, Peking University Health Science Center is seeing off its graduates – this year, though, through a virtue commencement. Today, 2094 members of the 2020 class are embarking on a new journey of their lives. Sharing in the joy of this milestone moment, I would like to extend congratulations from all of us here at PKUHSC to the 2020 class. I would also like to pay tribute to all the faculty and staff for your dedication as well as families and communities for your trust and support over the years.
  Class of 2020, you joined PKU Medicine with a devotion to prolonging life and alleviating pain. On this campus, you met with peers who shared the same devotion and people who had gone before you, and you turned your secret devotion into a sacred vow. Being faithful to your vow, you have worked hard to learn and grow. Now here you are, competent citizens guided by the values of patriotism, humanism, responsibility and science that PKU Medicine champions, and fully prepared to go out and build a career in medical care, research and education as you have long been committed.
  Your commencement, however, comes in an eventful year for the country. As the coronavirus outbreak at the beginning of the year forced you into the longest "winter vacation", PKU Medicine rose to the crisis and dispatched medical teams to fight at the forefront of the nation's response. At the height of the pandemic, General Secretary Xi Jinping wrote two letters in a month in reply to young doctors and students at PKU Medicine, which represented not only the recognition by the leadership and the public of the contributions made by all the health workers and young party members at PKU Medicine, but great expectations for medical students like you. Inspired by all of these, you have – in your own ways – pitched in to help. Some of you put aside unfinished graduation projects and went helping out overstretched staff at hospitals that had sent out medical teams; others signed up to work as student volunteers immediately when vacancy arose; and still others worked day and night putting together epidemiological figures or innovating on ways to raise awareness. You have proven to be a true and proud member of PKU Medicine, with every intention to honor your commitment to medicine.
  As you are leaving this campus, I would like to share with you my visions for you.
  First, a person of character.
  Character and benevolence, as the Chinese people have long believed, are as important as knowledge and skills in the making of a good doctor. This is as true today as any time in history. During the coronavirus pandemic, tens of thousands of health workers braved the danger and marched to Hubei and its capital Wuhan from all over the country. Among these heroes were 84-year-old Prof. Zhong Nanshan, our alumnus, who presided over the national response at the very frontline; Prof. Li Liuyi, an IPC Specialist who had worked consecutively for 136 days, as the national epicenter shifted from Hubei to Heilongjiang and then to Jilin, guarding her colleagues from nosocomial infections; researchers who made headways in testing, outbreak control, treatment, epidemiology, vaccine and drug development, and policymaking; and young party members of the post-90s generation, whose letters to General Secretary Xi showed the resilience of a new generation and their resolve to fight it out with the virus. These heroes who run toward danger have shown exemplary empathy and sense of duty through their actions.
  Just as it takes both wings to fly, medical skills cannot make up for the lack of character. In a career that is unfolding in front of you, it is my hope that you will come to understand the values of sacrifice, forgiveness and helping others, and be self-disciplined to practice these values through constant self-reflection.
  Second, a person of aspiration.
  Since day one of this institution, we have committed ourselves to alleviating pain and promoting health, and generations of our faculty and alumni have lived their lives delivering that mission. Among these great souls are Dr. Wu Lien-teh, father of national quarantine system in China who led efforts that stopped a pneumonic plague in the Northeast; Prof. Hu Chuankui, the first president of this institution who eliminated syphilis in China when he was alive and donated his body to medical sciences when he passed away; Dr. Gu Fangzhou, the Sugar Ball Grandpa who developed domestic OPV and eradicated polio in the country; and Dr. Tu Youyou, the Nobel Laureate who discovered the anti-malaria drug artemisinin and saved millions of lives.
  In these shining examples, we see courage, responsibility and perseverance; but more importantly, they put their personal ambitions in line with the needs of the country and its people. Class of 2020, your commencement comes as medical sciences and health industry in China embrace the historic window of opportunity brought about by the Healthy China Initiative. We have a clear roadmap leading to a great future, but there are major challenges lying in between, in terms of disease prevention and control and health promotion. Starting your career in this great era, it is my hope that you will live up to the expectations and blossom in the places where you are most needed.
  Third, a person of constant growth.
  Just like a lake that constantly seeks to enlarge itself with inflow from tributaries, you should continue to grow yourself through constant learning. Your commencement should not be regarded as the end but rather the beginning of self-directed life-long learning. This is especially true in an ever-evolving world such as this, with fast-moving medical sciences, ubiquitous uncertainties, and growing silo effect of uni-disciplinary approaches. Just look at how we responded to the coronavirus pandemic: biomics, artificial intelligence, big data, and robotics all found their way to use, and disciplines such as general practice, clinical medicine, mental health, rehabilitation science, and medical humanities had to work together to create synergy. You need to keep ahead of the changes and learn to tackle medical challenges with a systemic and interdisciplinary approach.
  Once again, congratulations to all of you. I wish you every success in your brand-new career.
  Thank you!
  Written by: Fan Xiaofei
  Edited by: Liu Xin
TOP