PKU Faculty Engaged in Language Training for Beijing 2022
  In June 3, Faculty members of Peking University School of Health Humanities released a new coursebook and provided language training in Zhangjiakou to gear up healthcare professionals there for the upcoming 2022 Winter Olympics. The training was organized by local health commission, with a focus on physician-patient communication in a foreign language and health humanities in a transcultural context. Officials of local health authorities, leadership of the Chongli branch of Peking University Third Hospital, and representatives from the 8 designated hospitals for Beijing 2022 attended the training in person, and more people from the designated hospitals and other facilities joined the event online.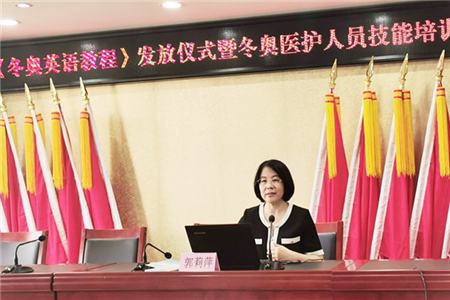 As Editor-in-Chief of The 2022 Winter Olympics English Coursebook for Healthcare Professionals in Winter Sports, Prof. Guo Liping, Vice Dean of the PKU School of Health Humanities, presided over the training. Also serving as trainer at the session was her colleague Prof. Tian Dongmei, who was the Associate Editor-in-Chief of the book. The training received widespread acclaim from the audience.
  Written by: Fan Xiaofei
  Edited by: Liu Xin
  Source: Department of Language and Culture in Medicine, PKU School of Health Humanities
TOP