Home» News&Events» News» PKUTH Holds live Webinar on Covid-19 with Italy University of Verona Affiliated Hospital
PKUTH Holds live Webinar on Covid-19 with Italy University of Verona Affiliated Hospital
  On April 29, invited by the Affiliated Hospital of University of Verona in Italy, in order to further exchange experience in the fight against covid-19 pandemic, and under the guidance of the Personnel Exchange Service Center of China's National Health Commission, a live webinar on Sino-Italian Exchange of COVID-19 Diagnosis and Treatments was co-hosted by the "Belt and Road" Health Professionals Development Alliance and Peking University Third Hospital (PKUTH).
  Academician Qiao Jie, vice president of PKUHSC and president of PKUTH, Professor Shen Ning, vice president of PKUTH and vice director of Respiratory Department, Dr. Li Shu, attending physician of Emergency Department, and Dr. Li Chao from the department of critical care medicine, shared online their own experiences in the fight against COVID-19 and exchanged with Dr. Francesco Cobello, president of the Affiliated Hospital of the University of Verona in Italy, Dr. Chiara Bovo, vice president of the hospital, and other 18 experts from related departments in the hospital.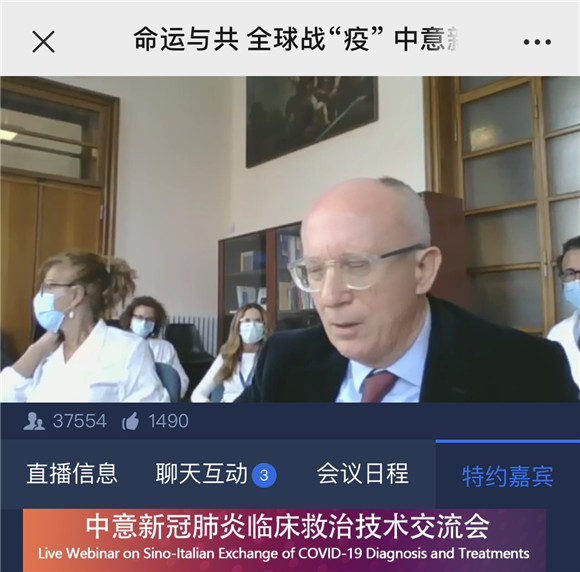 Dr. Cobello thanked China for her assistance and introduced the pandemic prevention and control work of the Affiliated Hospital of Verona University. Medical professionals from the hospital in such fields as respiratory medicine, imaging, tumor, infectious diseases, emergency and intensive care, and so on, asked questions on various issues including the detection, quarantine, diagnosis, treatment of COVID-19, and PKUTH experts fully answered them. The live webinar attracted nearly 40,000 domestic and foreign audiences.
  Written by: Wu Zhaoxia
  Edited by:Liu Xin
  Source: Peking University Third Hospital
TOP