Home» News&Events» News» Peking University Cancer Hospital arranges recent work against COVID-19 pandemic
Peking University Cancer Hospital arranges recent work against COVID-19 pandemic
Peking University, April 24, 2020:
On April 7, Peking University Cancer Hospital held a conference on recent epidemic response measures. Members of the leading group on COVID-19 control and department leaders attended the conference.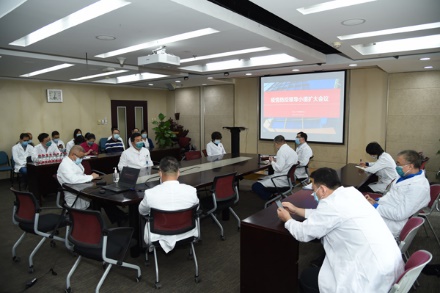 Guo Jun, vice president of Peking University Cancer Hospital, introduced the epidemic situation last week. With more patients from other provinces, the increasing out-patients amount has put the hospital under pressure. He emphasized that to prevent the potential risk of relapse, we should be prepared for a long-term process of epidemic prevention and control. Department leaders also reported recent work and further arrangements.

Party Secretary Zhu Jun concluded the meeting. He pointed out that though the overall epidemic situation is stabilizing, the outbreak is ongoing. Thus, the hospital should always pay attention to epidemic responses and properly deal with emerging problems, ensuring a safe environment for every patient.
TOP