President Xi Jinping lauds post-90s generation of PKU medics to Hubei
Editor's note: Medical teams from PKU-affiliated hospitals have been dispatched to Wuhan soon after the outbreak of COVID-19, among which 34 out of 453 medical workers are post-90s Party members. Their letter to Chinese President Xi Jinping was replied on March 15. The following is a piece of news from China Daily, providing a glimpse of what President Xi said in his reply.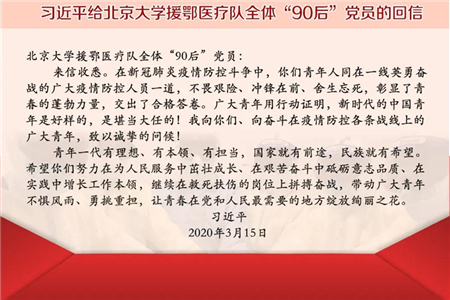 Peking University, March 17, 2020: President Xi Jinping praised China's generation born in the 1990s for their dedication in the fight against the novel coronavirus outbreak, saying that they demonstrated by actions that the Chinese youth of the new era can be entrusted with great missions.

Xi, who is also general secretary of the Communist Party of China Central Committee and chairman of the Central Military Commission, made the remark in a letter replying on Sunday to 34 Party members of that age group from Peking University's medical team who were sent to Hubei province, the epicenter of the outbreak in China.

In the letter, Xi extended sincere greetings to them and all young people fighting on the front line of epidemic control.

They and many other front-line workers have spearheaded efforts despite difficulties and threats to their lives, he said.

Xi said that a nation will be full of hope and a country will have a great tomorrow when younger generations have ideals, ability and a strong sense of responsibility. He urged young people to grow while serving the people, temper themselves through arduous work, increase their abilities in practice and continue to fight at their posts saving people's lives.

Xi also encouraged the 34 young Party members who wrote the letter to motivate the country's young people to shoulder greater responsibilities and make their contributions in places where the Party and the people need them most.

Among the over 42,000 medical workers who went to assist in epidemic control in Hubei, more than 12,000 were born in the 1990s, some in the latter part of the decade.

The 1990s generation, raised in an affluent and rising China, is often stereotyped as childish and naive.

Wang Ben, secretary of the fourth temporary Party branch of a medical team sent to Wuhan by Peking University, was one of the lead writers of the letter sent to Xi on Wednesday, a day after Xi's trip to Wuhan.

"It was unexpected that we would receive a letter in reply, and within such a short period," the 26-year-old said.

Wang said the original purpose of their letter was to tell Xi as well as the whole nation that China's 1990s generation has grown up and is no longer a generation that needs protection or extra care.

"Now we're capable of shouldering social responsibilities and making contributions to the country with our own efforts," he said, vowing to win the final battle against the coronavirus in Wuhan.


Source: China Daily
TOP