Home» News&Events» News» Department of Nuclear Medicine of PKU First Hospital Wins Multi-Awards at AOCNMB 2019
Department of Nuclear Medicine of PKU First Hospital Wins Multi-Awards at AOCNMB 2019
  Wang Rongfu, Department Director of Nuclear Medicine of Peking University First Hospital, and six other physicians went to Shanghai to attend the 13th Asia Oceania Congress of Nuclear Medicine and Biology and the 20th Annual Meeting of Chinese Nuclear Society of Nuclear Medicine. The Congress brought together over ten thousand nuclear medicine experts and professions from home and Asia and Oceania. PKUFH team hosted sessions such as continuous education, oral presentation, case exchanges, English contest, and editorial board meeting. They also won several awards and were acknowledged by both Chinese and foreign peer professionals.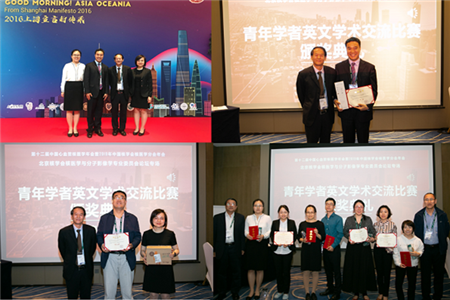 Wang Rongfu was invited to give reports on "Nuclear Imaging-Guided Combination of Targeted Radiotherapy and Anti-PD-L1 Immunotherapy" and "Application of Isotopic Tracer Technique in the Clinical Pathway of PD Diagnosis". Both reports focused on the frontier hot topics: tumor immunology and diagnosis and treatment of neurodegenerative disorders, where their work ranked among the leading position. Besides, the report "PET Cognition of Cryptogenic Organizing Pneumonia" by Tong Zhenghao from PKUFH raised the awareness of the feature of "same disease with different symptoms while different diseases with same symptom" in the imaging of regular and rare diseases.
  More importantly, in the English contest of academic exchanges for young scholars in nuclear medicine and molecular imaging held by Beijing Nuclear Society, physicians Kang Lei and Liao Xuhe, and Ph.D candidate Liu Min won the first prize, the second prize, and the excellence prize respectively.
  Written by: Lang Lang
  Edited by: Liu Xin
  Source: PKUFH
TOP