Home» News&Events» News» Ao Yingfang Team Publishes in Nature Communications on Small Molecule Treatment of Osteoarthritis
Ao Yingfang Team Publishes in Nature Communications on Small Molecule Treatment of Osteoarthritis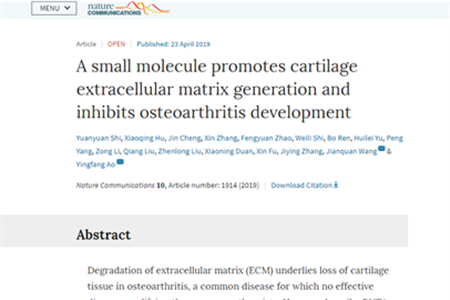 Titled "A small molecule promotes cartilage extracellular matrix generation and inhibits osteoarthritis development", Professor Ao Yingfang's team published their new findings on Nature Communications (IF: 12.353) the sub-journal of Nature, on April 23.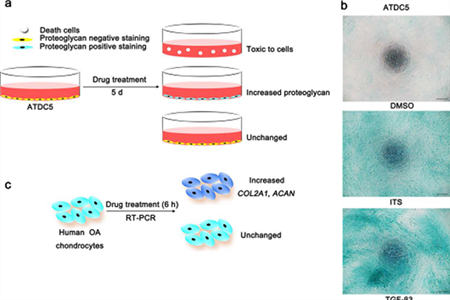 The research found that via alcian blue staining, the screening of libraries comprising 2320 natural and synthetic small compounds identified a new candidate of DMOAD—BNTA.

  In order to investigate whether BNTA could inhibit OA, the research team used in vitro culture of chondrocytes, culture of human OA cartilage explants, and an OA model of induced transection of the anterior cruciate ligament on SD rats. It was found that BNTA could effectively enhance anabolic metabolism in OA chondrocytes and promote the expression of cartilage ECM markers. The research laid the foundation for future study and clinical translation of the application of BNTA to OA treatment.
  Link: https://doi.org/10.1038/s41467-019-09839-x
  Written by: Lang Lang
  Edited by: Liu Xin
  Source: PKUTH
TOP