Home» News&Events» News» Beijing International Pediatric Neurology Forum 2019 Held by Peking University First Hospital
Beijing International Pediatric Neurology Forum 2019 Held by Peking University First Hospital
  From April 13 to 14, the "Beijing International Pediatric Neurology Forum 2019" was successfully held by Peking University First Hospital (PUFH). More than 300 experts of various fields including pediatrics, internal medicine, neurology and intensive care units from 24 regions and 80 hospitals in China attended the forum. In addition, the forum also adopted online live broadcasting for the first time.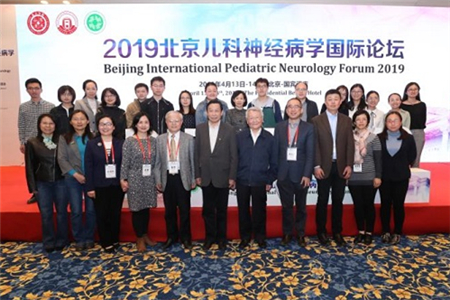 PUFH Neurology Professor Wu Xun and Pediatrics Professor Lin Qing served as honorary consultants. And PUFH Pediatrics Professor Jiang Yuwu chaired the forum. The forum also invited many internationally renowned experts from abroad, including the most famous Ketogenic Diet therapist in the world--- Eric H. Kossoff, Professor of Neurology and Pediatrics of Johns Hopkins University in the United States, and the most famous expert of Pediatric Neuromuscular Disorders--- Tatsushi Toda, President of Japan Neurology Society and Professor of Neurology of University of Tokyo, and expert of Developmental Neurology--- Professor Michael Shevell, Director of Pediatrics, McGill University Medical Center, Canada, and expert of Dyskinesia diseases--- Professor Michel Willemsen, Council Member of the International Society of Pediatric Neurology and Director of Radboud University Medical Center in the Netherlands. What's more, over 20 famous experts and scholars in the field of pediatric neurology in China attended the forum.
  The forum offered academic activities such as lectures and interactive discussions, focusing on areas including non-drug treatment of epilepsy, neuromuscular diseases, motor disorders, cerebral palsy, genetic and metabolic diseases, and mental retardation, which further promoted the multidisciplinary and interdisciplinary academic exchanges and cooperation at home and abroad in the field of pediatric neurology, and established a high-level exchange platform for pediatric neurology in China.

  Written by: Wu Zhaoxia
  Edited by:Liu Xin
  Source: Peking University First Hospital
TOP