Peking University School of Health Humanities Inaugurated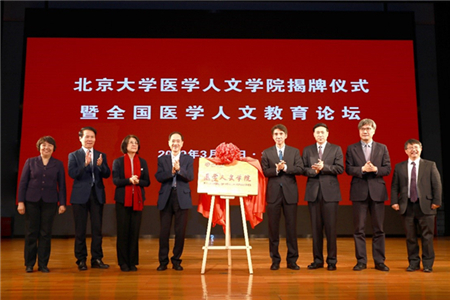 On March 29, the Inauguration Ceremony of Peking University School of Health Humanities (PKUSHH) was held at the Conference Center of Peking University Health Science Center. PKUSHH is a leading institution in health humanities across the country. Over three hundred experts, personnel in health care, teachers and students from more than sixty universities, colleges, and institutes convened for the ceremony and discussed how to push forward health humanity education, so as to assist the strategy of Healthy China.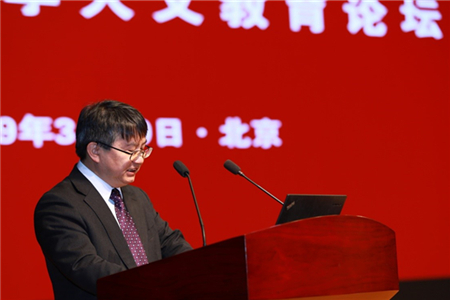 Zhou Cheng, Dean of PKUSHH, introduced the history of the naming of the school. He said that after the inauguration, the school's faculty and students would be more diligent and focused on reform, in order to aid the development of PKU Medicine.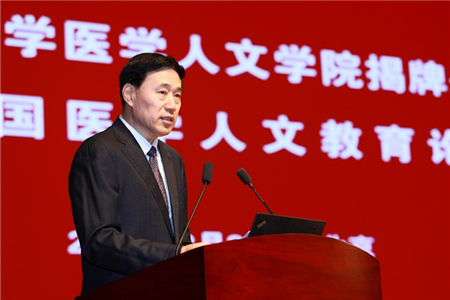 Afterwards, in his speech, Liu Yucun, Deputy Secretary of the Communist Party of China PKU Committee and Secretary of the CPC PKUHSC Committee, emphasized that as the goal keeper of thoughts and politics for medical students, the school should summarize precious experience from previous explorations and practices, so as to gather power for the reform and development of PKU Medicine by the call of new era, new beginning, and new journey.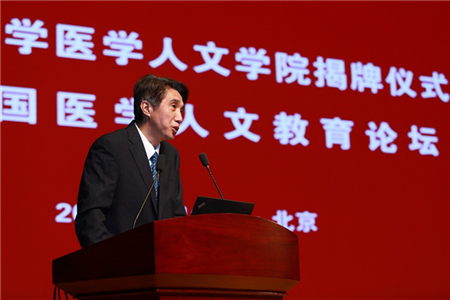 Wang Qiming, Deputy Director-General of Department of Higher Education, Ministry of Education, attended the ceremony and made a speech. He expressed the idea that more emphasis should be given to the foundational feature of health humanity education and humanity education should be expanded to the whole process of education. He believed that PKU would continue to play a leading and exemplary role in our country's medical education.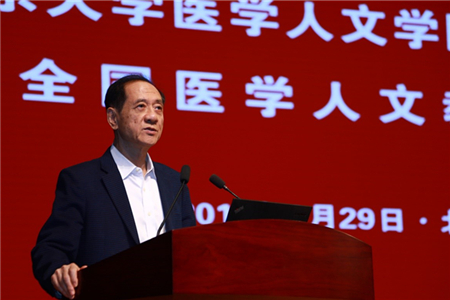 Academician Han Qide, former Vice Chairman of the National Committee of the Chinese People's Political Consultative Conference, Honorary President of China Association for Science and Technology, former President of PKUHSC, made the concluding speech. He expressed his expectation for the development of health humanities in four aspects: to reform, open up, and innovate; to find a clear path to carry out measures; to make best use of the advantages and bypass the disadvantages to make key breakthroughs; to pay attention to the interests of the whole and be unified and harmonious.
  The inauguration of PKUHSS is not only an important step in the overall arrangement of PKU Medicine, but also an important event in health humanity education in our country. PKUHSS will continue to hand down the history and humanity spirit of PKU Medicine and exert its role in the development of PKU Medicine, health humanity education, and our country's medicine.
  Written by: Lang Lang
  Edited by: Liu Xin
  Source: PKU School of Health Humanities
TOP