Home» News&Events» News» Shen Tao of Pathogenic Biology Department and His Collaborators publish on DILI in Gastroenterology
Shen Tao of Pathogenic Biology Department and His Collaborators publish on DILI in Gastroenterology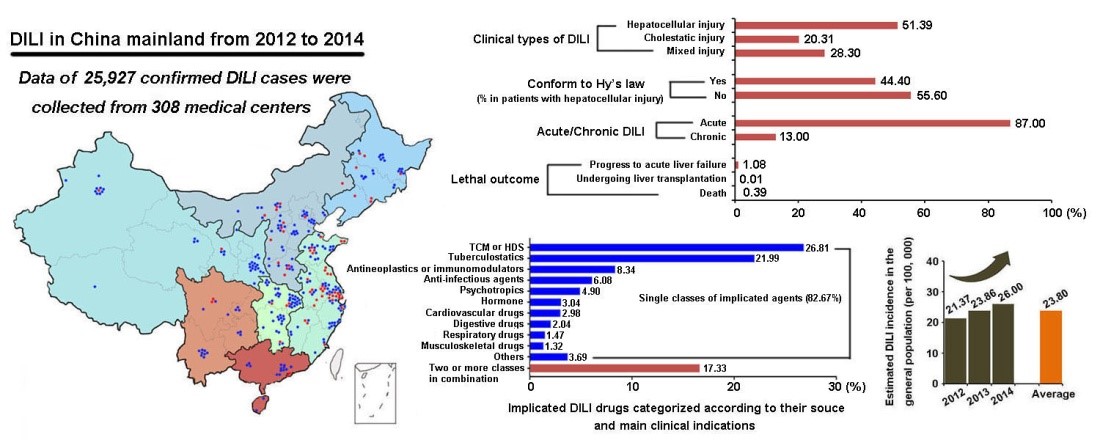 Shen Tao, Associate Professor of the Department of Pathogenic Biology, School of Basic Medical Sciences at PKUHSC, recently published as the first author an online research paper entitled "Incidence and Etiology of Drug-Induced Liver Injury in Mainland China" (https://www.gastrojournal.org/article/S0016-5085(19)30364-6/fulltext) in Gastroenterology (IF:20.773)---a top journal in the field of digestive diseases. Professor Mao Yimin from Department of Gastroenterology at Renji Hospital, Shanghai Jiaotong University School of Medicine, and Professor Chen Chengwei, from the 85th Hospital of Chinese People's Liberation Army, are co-correspondent authors of this article.
  This paper is the first research paper published by Chinese scholars to reflect the epidemiological, etiological and clinical characteristics of drug-induced liver injury in mainland China. The retrospective epidemiological study included 25,927 patients with drug-induced liver injury (DILI) in 308 hospitals in mainland China, which is also the largest-scale epidemic DILI study so far in China. The research results indicate that Chinese scholars have entered the international leading level in this field.
  This study systematically analyzed major suspicious drugs (including western medicines, Traditional Chinese medicines, herbal drugs and dietary supplements, etc.) leading to DILI, as well as their clinical features and current treatment. The study showed that the main drugs causing liver injury in China were various health products and traditional Chinese medicines (26.81%), anti-tuberculosis drugs (21.99%) and anti-cancer drugs (8.34%). The study found that 13% of patients suffered from chronic DILI, and 23.38% of the patients with DILI were complicated with viral hepatitis, fatty liver and other basic liver diseases. Moreover, the liver injury of these patients was more serious, and the risk of liver failure and death was higher.
  Written by: WU Zhaoxia
  Edited by:Liu Xin
TOP