Indonesian Health Delegation Visits PUHSC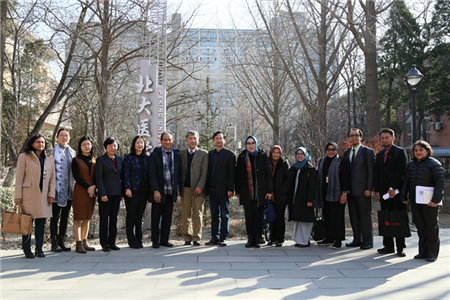 A delegation of the Indonesian Ministry of Health visited Peking University Health Science Center (PUHSC) on February 20. The delegation was led by Prof. Akmal Taher, Sp.U (K), who is Senior Advisor to the Minister of Health.
  The delegation was received by Director Sun Qiudan of the PUHSC Office of International Cooperation, who briefed the visitors on the host institution in terms of education, research and clinical care. The delegation then met with Ms. Zhang Xiaofang, who is Director of Education and Training at Peking University Clinical Research Institute (PUCRI) and Chief of Staff of APEC Regulatory Sciences Center of Excellence. Ms. Zhang introduced in detail both of her affiliations and shared with the visitors the best practices of China in conducting clinical trials. The two sides discussed shared challenges in clinical research and opportunities of cooperation between Indonesian medical schools and the PUHSC.
  Also in the delegation were Arianti Anaya, Director of Medical Device Production and Distribution Service, Roy Himawan, Head of Sub Division for Evaluation and Report, Lili Sadiah, Deputy Director of Medical Device and Family Health Product, Sri Wahyuni, Deputy Director of International Cooperation, and Rukmini Tri Setiati, Social Culture Counsellor from the Indonesian Embassy in China.
  Written by: Fan Xiaofei
  Edited by: Liu Xin
TOP