Home» News&Events» News» The Delegation from the British Medical Journal Visits PKU Third Hospital
The Delegation from the British Medical Journal Visits PKU Third Hospital
  The Delegation led by Kamran Abbasi the Executive Editor from the British Medical Journal (BMJ) visited Peking University Third Hospital on the afternoon of November 7. He was accompanied by Kong Yuyan, the BMJ China Managing Director, Yin Daoxin, the BMJ China Editor, and Zhao Yang, the BMJ China Publisher. Qiao Jie, President of PKUTH, and deans and experts from the hospital's Office of Scientific Research, Research Center for Clinical Epidemiology, Center for Information Management and Big Data, and Reproductive Medicine Center attended the exchange meeting.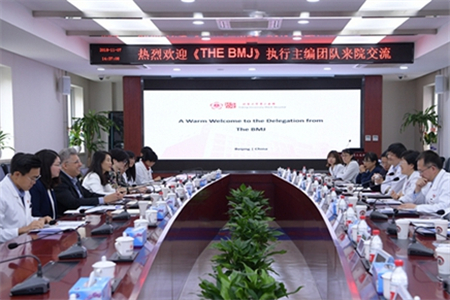 The exchange meeting
  The Delegation listened to PKUTH's report on its scientific research achievements. Kamran Abbasi gave affirmation of PKUTH's scientific research and expressed the expectation to have more in-depth academic exchanges and cooperation.
  The BMJ is affiliated to the British Medical Association and has a history of more than 170 years. In 2016, PKUTH signed a cooperation agreement with the BMJ to introduce its Best Practice, the supporting system of clinical decision in evidence-based medicine, so as to provide efficient quality online information for the diagnosis and treatment decisions made by PKUTH's clinical doctors.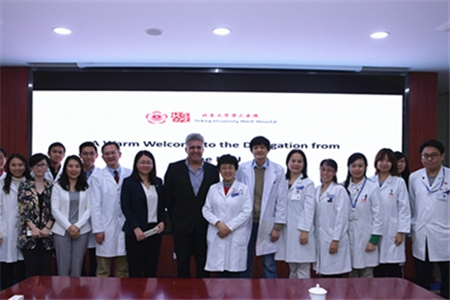 The group photo
  Written by: Lang Lang
  Edited by: Liu Xin
  Source: PKU Third Hospital
TOP