The 4th Global Health Journalism Fellowship launched
  Recently, the "4th Global Health Journalism Fellowship" project was launched at Peking University Health Science Center (PKUHSC). The project started in June 2018 to recruit journalists from all over the country who have long been engaged in journalism and communication with outstanding results and at least three years of experience in medical and health related fields. In September, 10 journalists from different types of media, including television, newspapers, magazines and the Internet, were selected for the fellowship. From September 2018 to January 2019,they will study at Peking University School of Public Health for about four months.
  Academician ZHAN Qimin, PKU executive vice president and PKUHSC president, taught "the first lesson" on medical science and technology innovation to the students from different media. YANG Daming, vice president of Caixin Media Company Ltd. and chairman of Caixin Foundation, HAO Weidong, Party Secretary of Peking University School of Public Health , ZHANG Wei, vice president of Xian Janssen Pharmaceutical Ltd.of Johnson & Johnson, and NI Yunjin, student representative from Xinhua News Agency Beijing Branch, spoke at the meeting respectively.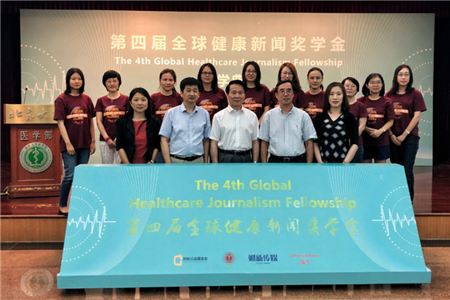 The society needs journalists who really understand medicine, thus it is hoped that students can be free to seek truth. While systematically receiving information from medical industry, they should also consider the direction and problems of the development of China's medical and health services so as to form a cross-disciplinary perspective that attaches equal importance to both medicine and journalism.
  It is understood that this project is co-hosted by Caixin Foundation and PKUHSC, and solely sponsored by Johnson & Johnson (China) Investment Co.,Ltd. The selected journalists will take both compulsory and elective courses, including advanced public health, health economics, health law, etc. They will also attend biweekly lecture series which focus on health report and new media dissemination, have a monthly dialogue with distinguished scholars, enjoy close interaction with well-known experts from all circles, and participate in visits and exchange activities. The student assessment system combines learning hour completion rate with thesis defense.
  Written by: WU Zhaoxia
  Edited by:Liu Xin
TOP