Home» News&Events» News» Nature Medicine Publishes the Lung Cancer Research by Yan Tian Sheng Team and Zhang Zemin Team
Nature Medicine Publishes the Lung Cancer Research by Yan Tian Sheng Team and Zhang Zemin Team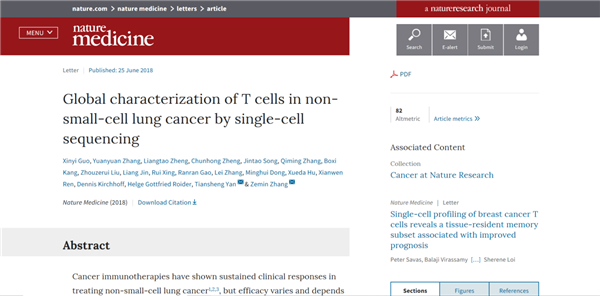 "Global characterization of T cells in non-small-cell lung cancer by single-cell sequencing" published by Nature Medicine (IF="32.621)" on June 25, 2018 is the latest research findings by the collaboration of the team of Yan Tiansheng from Department of Thoracic Surgery of Peking University Third Hospital and Zhang Zemin from Peking University BIOPIC, Beijing Advanced Innovation Center for Genomics, and PKU-Tsinghua Center for Life Sciences. They performed deep single-cell RNA sequencing for 12,346 T cells from 14 non-small-cell lung cancer patients, and observed the 16 T cell subsets in non-small-cell lung cancer, their distribution characteristics and inter-subset state transition and other immune features. Based on the T cell transcription data and the T cell receptor (TCR) sequence, the study revealed two clusters of inter-tissue effector T cells with a highly migratory nature, which provides information for the development of new immunotherapy.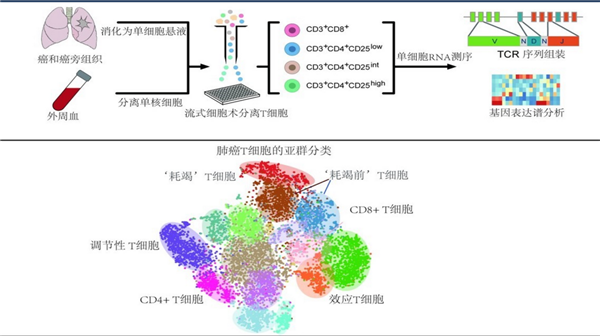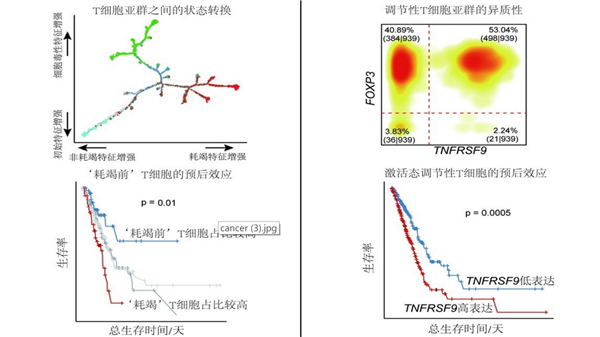 Map of non-small-cell lung cancer T cells
  Besides exhausted cells, two clusters of tumor-infiltrating CD8+ T cells were observed to exhibit states preceding exhaustion that might transit into exhausted T cells, which provides new clinical marker for lung adenocarcinoma. The study also found a cluster of activated tumor regulatory T cells (Tregs) within the lung tumor-infiltrated Tregs, based on the bimodal distribution of TNFRSF9 (also named 4-1BB). Those Tregs exhibited a higher level of suppression-related gene expression, which can be used as another reliable clinical marker.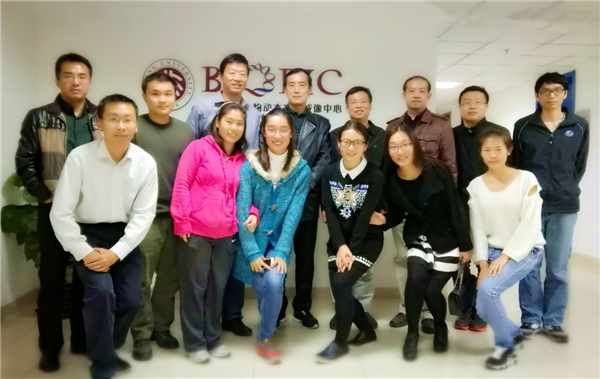 Group photo of Zhang Zemin team and Yan Tiansheng team
  Link: https://www.nature.com/articles/s41591-018-0045-3
 Written by: Lang Lang
  Edited by: Liu Xin
  Source: PKU Third Hospital
TOP