Home» News&Events» News» Praise for the Youth and Expectation for the future---Peking University Health Science Center 2017 Commencement
Praise for the Youth and Expectation for the future---Peking University Health Science Center 2017 Commencement
  On the morning of July 2, 2017, definitely a "happy festival" to the students dressed up (in bachelor's, master's, doctor's gowns), the graduates were all permeated with youthful mien, wearing the smile of "victory". They became the shining stars at PKUHSC Stadium, where the 2017 commencement of PKUHSC was held for 1775 students. This would be the last lesson they have together on the campus and would also be the last entrustment and expectation from the university before they embark on a new journey.
  After the propaganda video "Stay True to Oneself", at 7:15 a.m., DUAN Liping, vice president of PKUHSC and chairperson of the ceremony, announced the commencement of the graduation ceremony.
  With the national anthem, the Five-star Red Flag rose slowly and all the teachers and students looked up to it.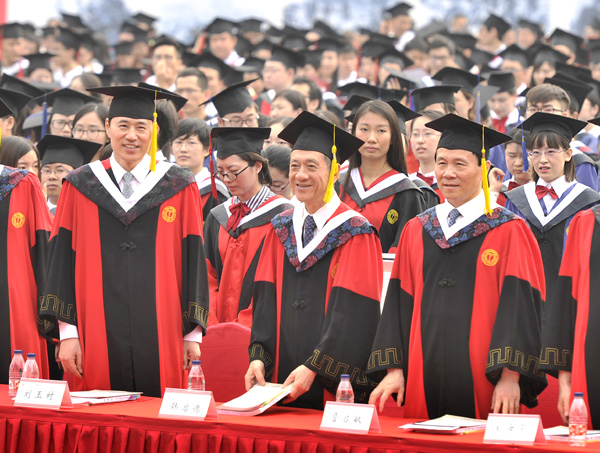 the commencement
  LIU Yucun, Party Secretary of PKUHSC, introduced the situation of 2017 graduates:
  This year, PKUHSC has a total of 1775 graduates, among them, 529 undergraduates including 8-year program students in clinical medicine and stomatology, 1182 postgraduates, and 64 Hong Kong, Macao and Taiwan students and overseas students. In addition, 99 in-service applicants received their degrees.
  Among this year's graduates, a total of 294 people won the honorary title of "Outstanding Graduates of Peking University", 96 of whom earned the title of "Outstanding Graduates of Beijing" at the same time. During their years at PKUHSC, the students studied hard, innovated bravely, and thus achieved excellent results. This year, a total of 628 students (including previous graduates) received PhD degree and a total of 912 articles were published, including 485 SCI papers. The highest impact factor is 44.02 and both the quantity and quality of the published papers stay at a high level. What's more, in response to the call of "mass entrepreneurship and innovation ", 2 students started their own business.
  Following our national call, PKUHSC encourages graduates to go to the west, to the grassroots and to the places where they are most needed by our country and people to make contributions. This year, 29 graduates volunteered to work in Yunnan, Gansu, Ningxia and other western provinces, hundreds of graduates found employment in cities along "The Belt and Road" and 18 students chose to work in grassroots community and township medical institutions as selected graduates and general practitioners.
  Some graduates chose to go abroad for further study. They have been admitted to top medical schools in the world such as Harvard University and John Hopkins University in the U.S., University of Oxford and University of Cambridge in the UK, and Melbourne University in Australia.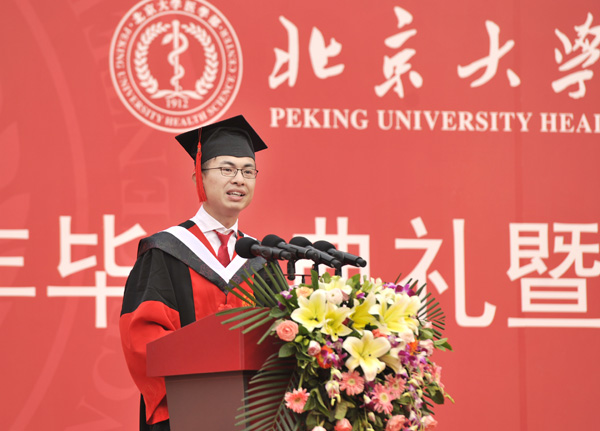 WU Zhouqiao of Grade 2005 8-year clinical medicine major
  WU Zhouqiao of 8-year clinical medicine major in grade 2005 gave a speech titled "Participants in Big Medical Era", sharing his experiences of growing from being full of confusion to full of confidence. In 2011, he took part in PKUHSC's training program---"double PhD in both clinical medicine and research" and went to Holland. He completed doctoral studies in Holland and got PhD in research and then returned to PKUHSC and received his PhD in clinical medicine. Up to now, he has published more than 30 SCI papers.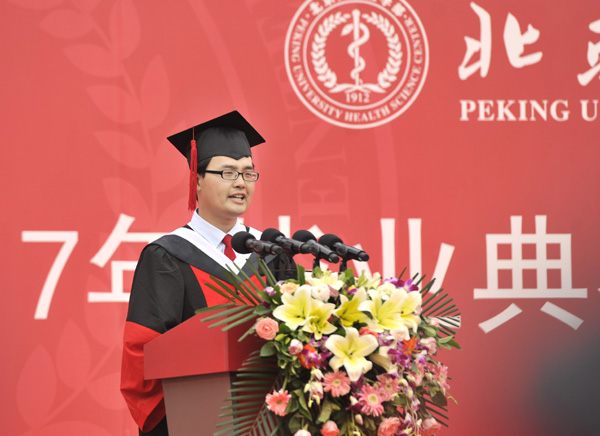 SI Longlong of Grade 2012 Chemistry and Biology Major
  SI Longlong, graduate representative of grade 2012 chemistry and biology major and winner of "the 12th award of Chinese University Student of the Year", shared his learning and growing experiences in the speech "With Gratitude and With Awe". (In 2016, he published his findings as the first author in the journal "Science" and caused a sensation in the international research circle).
  ZHANG Jia'en of Grade 2011 Clinical Medicine Major
  Medicine has no borders. Therefore, it is also the responsibility of China and the responsibility of Peking University to nurture medical talents for other countries.
  ZHANG Jia'en of grade 2011 clinical medicine major from Malaysia, as a representative of overseas graduates, expressed her gratitude to PKUHSC teachers.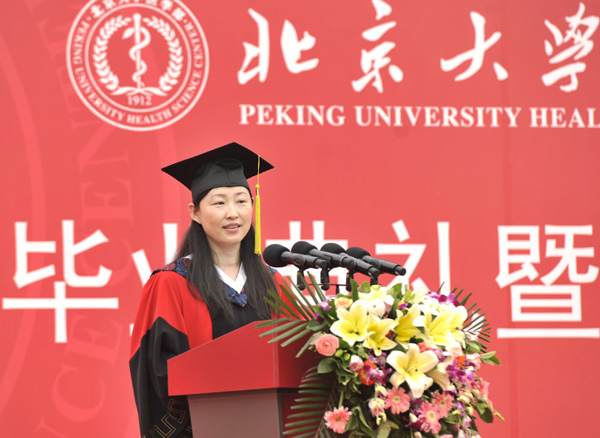 Teacher Representatvie, Prof. YANG Li from Nephrology Dept. of Peking University First Hospital
  A teacher is one who propagates the doctrine, imparts professional knowledge and resolves doubts.
  On behalf of the teachers, Professor YANG Li from the Department of Nephrology of Peking University First Hospital, shared her growing experiences and expressed her expectations for the graduates in her speech ---"Dream, Perseverance and Moving on". Prof. YANG has been engaged for many years in both clinical research and other related basic research of kidney diseases and has made outstanding achievements especially in the prevention and treatment and the pathogenesis research of acute kidney injuries. In 2016, she won the National Science Fund for Distinguished Young Scholars and ShuLan Medical Youth Award.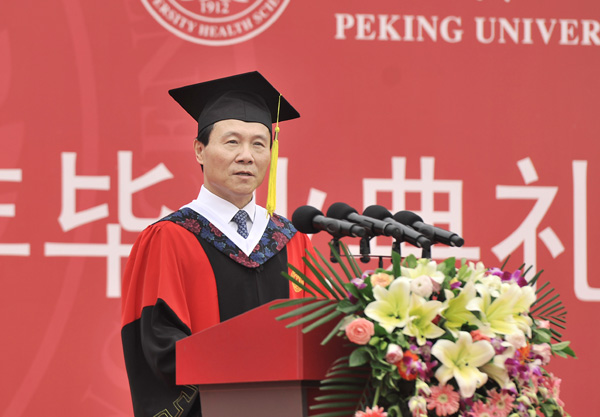 Stay true to onself and relive the oath, a message by PKUHSC President Academician ZHAN Qimin
  Always keep in mind the original aspirations, constantly pursue professional knowledge and have everlasting benevolence. These are more entrustment than hope.
  Stay true to oneself and relive the oath. PKUHSC President Academician ZHAN Qimin delivered this message to the graduates at the commencement. He said, a few years before at the opening ceremony, they made a medical oath together as new medical students, started their journey in the sea of medical sciences at PKUHSC, a renowned medical school with a history of over 100 years, received the best education and training in medicine and medical humanities, and developed learning methods and learning abilities which will benefit them for life. Today, the students will open a new leaf in life, with passion, confidence, love and capability, stepping onto the social stage of health and medical care and writing their own wonderful life chapter.
  In order to gratify the graduates' wishes, at the ceremony this year ZHAN Qimin sang a song called " the Youth Memories" which was composed by CHEN Qinyang and written by Academician ZHAN himself. The song won a lot of applause and fans. This colorful youth is really worth remembering.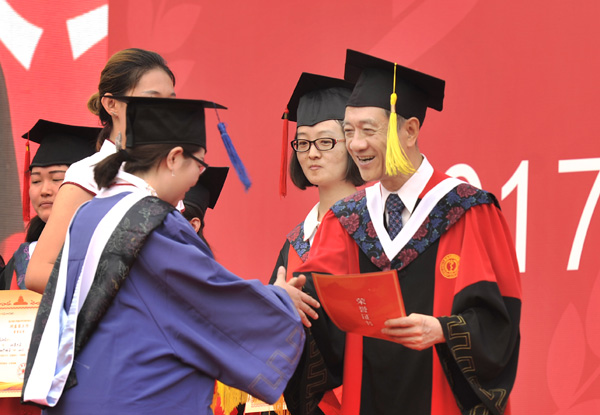 The over-100-year history has nurtured all PKU medical people with the sense of mission and responsibility for society, which will pass on forever.
  This year, another 29 graduates volunteered to work in western provinces such as Yunnan, Gansu and Ningxia. Academician HAN Qide, vice chairman of the CPPCC National Committee, awarded them honorary certificates one by one, praising their life choices for serving the western regions of our country.
  Choosing the road of medicine is choosing never to give up responsibility.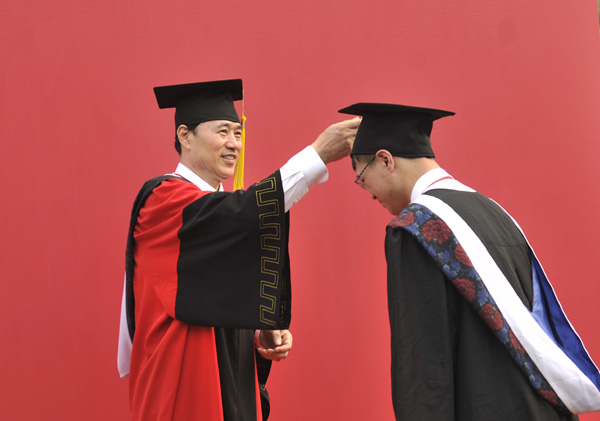 Medicine is a domain with infinite knowledge; being a doctor is an arduous but sacred occupation. Party Secretary of PKUHSC LIU Yucun said, PKU Medicine is a mission in mind and responsibility on shoulder. He hoped that, the students will remember their mission and responsibility and will not forget their medical oath, and he also hoped that, PKUHSC is always their home and they can often come home to pay a visit.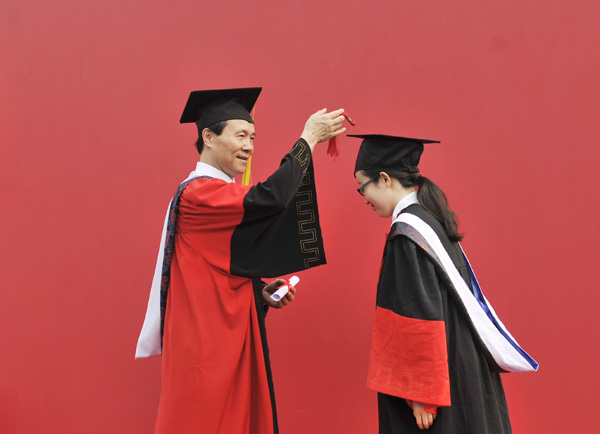 the Tassel-turning Ceremony
  Beijing satellite TV Program "I Want to be a Doctor" joined the graduation ceremony of PKUHSC that day and broadcast it live throughout the country. Tencent also conducted a live coverage of the commencement.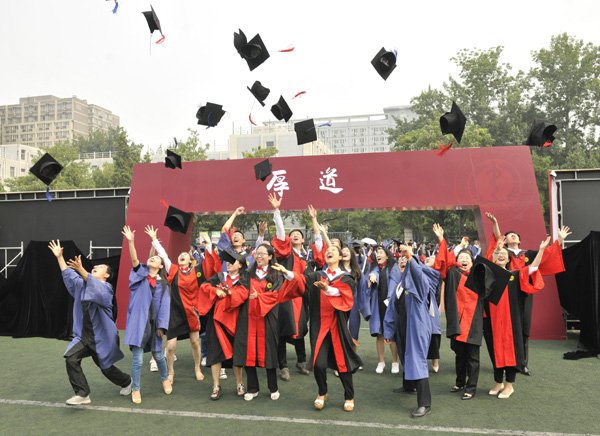 the Commencement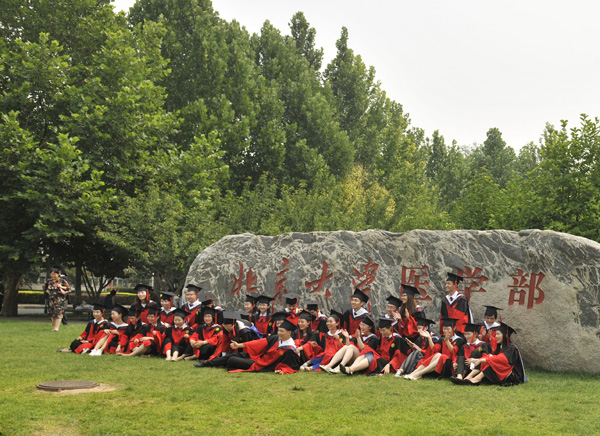 Group Picture
  Written by: WU Zhaoxia
  Edited by: Liu Xin
  Source:Dept. of Propaganda, PKUHSC
TOP