Zhan Qimin: A Broad Picture of PKU Medicine
  Editor's Note: May 4, 2017, marks the 119th anniversary of Peking University. On an exchange event celebrating this day, Zhan Qimin, President of Peking University Health Science Center gave a speech titled "A Broad Picture of PKU Medicine". The full transcript is as follows: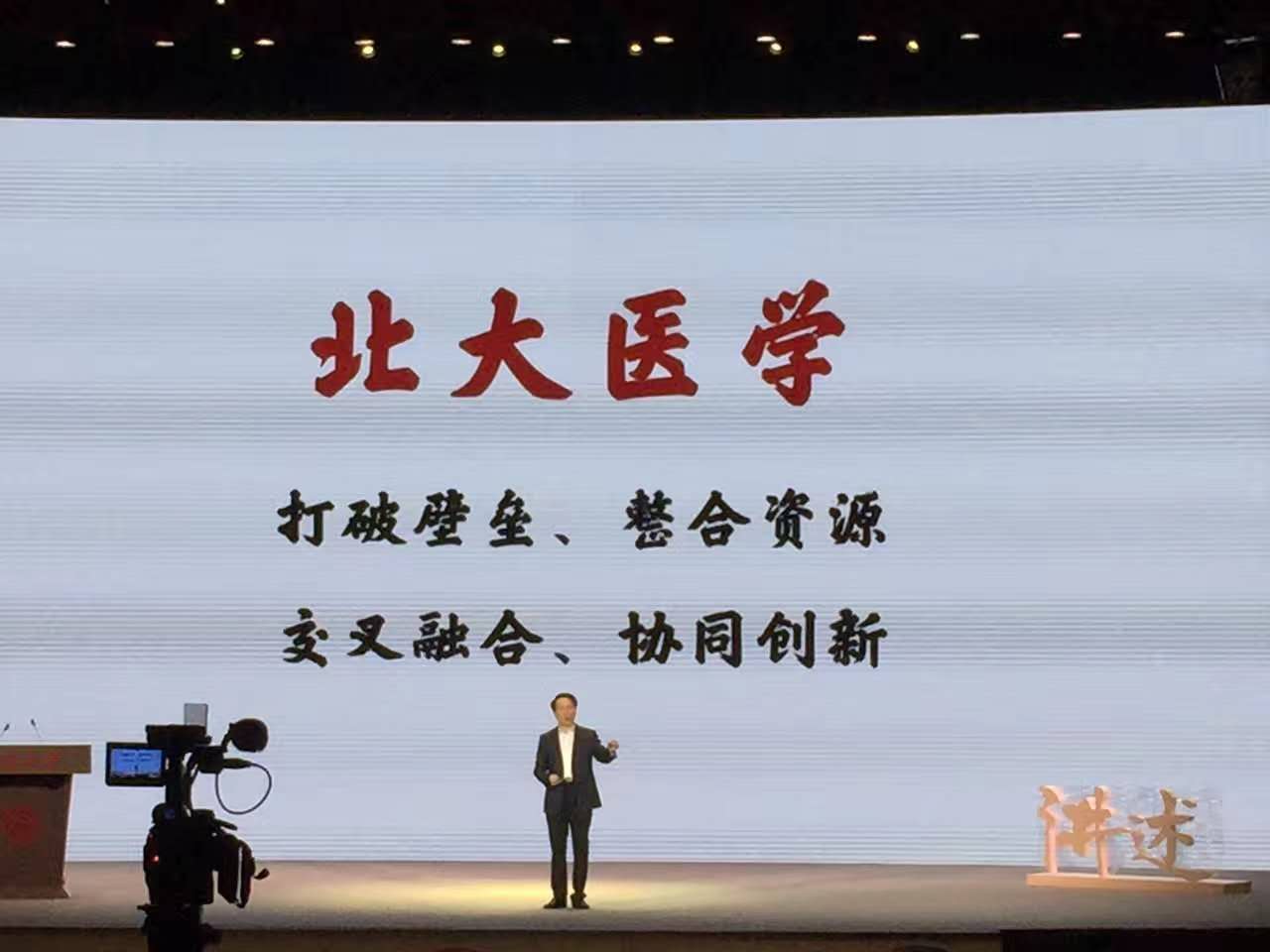 This is not just another day. Joining you here at the Peking University Hall in this delightful moment, I would like to share with you my vision for PKU Medicine.
  We are living in a great era, an era where Chinese people around the world rally to the cause of the nation's rejuvenation. To deliver this "Chinese Dream", China is now striving for the Two Centenary Goals, the first of which is to complete the building of a moderately prosperous society by 2020. However, this well-off society, as President Xi Jinping pointed out loud and clear, cannot be built without good health of all the people. Echoing this point, China held its National Health Conference in Beijing last August and issued the Outline of the Plan for "Healthy China 2030" in October. Such moves are the testimony to China's commitment to health in its socioeconomic development.
  Health represents both a basic and an ultimate need of the people. (That's why we often hear people say that health is the last thing that one can live without.)
  However, China is fighting an uphill battle in the prevention and control of major diseases: 3.8 million newly diagnosed cancer patients and 2.6 million cancer-induced deaths every year; 270 million patients with hypertension, 160 million with hyperlipidemia, and an annual death toll of 3.8 million from cerebro-cardiovascular diseases; more than 100 million diabetics plus 150 million more with pre-diabetes; over 20 million born with birth defects; over 80 million living with HBV; and on top of that, there is this ever present threat from SARS, avian influenza, TB, HIV and hand-foot-and-mouth disease.
  These diseases must be addressed in order to build a healthy China, and Peking University should rise up to this challenge and seize the opportunity that comes along with it.
  The advancement of health and medical sciences features both innovation and transdisciplinarity. Every single one of the novel procedures, equipment and medications in the 100-year history of modern medicine is the product of technological progress. It is innovation and transdisciplinarity that have brought us from stethoscopes, scalpels, microscopes and a handful of antimicrobials to MRI, color Doppler ultrasonography, CT, PET-CT, medical linear accelerators, robots, minimally invasive procedures and targeted therapies.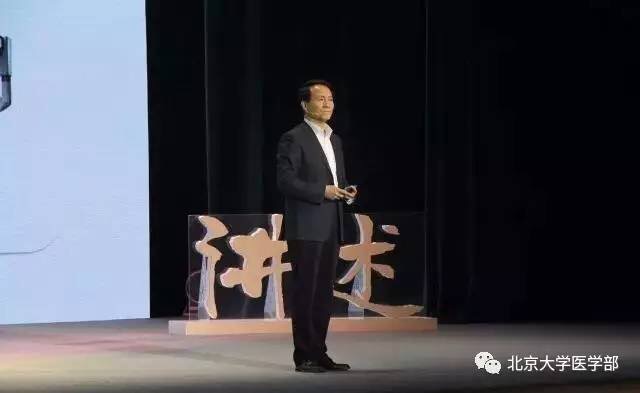 1. PKU Medicine is to break the boundaries between schools and disciplines, pool resources of all medically-related disciplines in PKU, and combine medicine with engineering, science, optics, electronics, material science, nanotechnology, bioinformatics and big data. In this way, medicine serves as both a platform for interdisciplinary research and a recipient of applications resulting from it.
 2. PKU Medicine pursues a development plan of "clinical medicine + X", which is a clinically-oriented strategy that encourages innovative research with interdisciplinary input from clinical and fundamental sciences so as to address issues that cannot be solved by medicine alone and improve treatments in clinical settings. This strategy will promote the development of clinical medicine at PKU and will use clinical medicine as a driver to facilitate advancement in engineering, sciences and other interdisciplines.
  Peking University Health Science Center has a history of 105 years. Its clinical system comprises 6 affiliated hospitals (i.e. the well-known Peking University First Hospital, People's Hospital, Third Hospital, Hospital of Stomatology, Cancer Hospital and Sixth Hospital), 4 hospitals of joint ownership and 14 teaching hospitals, making it one of the best and biggest in the country. It ranks first in China in sports medicine, reproductive medicine, nephrology, urology, orthopedic trauma, hematology, dentistry, gastrointestinal cancer and mental illnesses. All of these constitute a vast pool of resources to carry out "clinical medicine + X".
 3. Currently, the existing Center for Data Science in Health and Medicine is on the way to be updated to National Institute of Big Data Research in Health, and a number of other institutes are in the pipeline, including Peking University Multiomics Center for Precision Medicine, Center for Molecular Imaging, Center for Smart Medicine, Interdisciplinary Medical Institute and Tu Youyou Institute for Innovative Drugs.
 4. PKU Medicine is devoted to filling the domestic vacuums of general practice, rehabilitation and gerontology, which is consistent with the national health strategy that focuses on not only diagnosis and treatment but the whole lifespan.
 5. PKU Medicine will escalate input in biomedical engineering, genomics, bioinformatics, stem-cell-based tissue engineering, immunology and neurology. It is going to build interdisciplinary PKU Center for Cancer Research and Center for Cardiovascular Research.
 6. PKU Medicine will strengthen the Center for Global Health, which will serve as a think tank for China's international policy and inform the Belt and Road Initiative on the public health front.
 7. PKU Medicine will host forum after its name as a high-caliber exchange platform with international colleagues.
 8. PKU Medicine produces clinically competent doctors as well as outstanding pharmaceutical, public health and nursing professionals; but more importantly, it produces leaders that define the contours of medicine in the future. These top-notch ones have excellent clinical skills, long-term research potentials, broad knowledge and international mindset. They are China's top clinicians, medical scientists, educationists and humanists in the upcoming future.
   Among the alumni of Peking University Health Science Center are Tu Youyou, China's first Nobel laureate in natural sciences whose discovery, artemisinin, has saved millions from malaria; Zhang Lizhu, the gynecologist who performed the first successful case of test-tube baby in China; Wang Zhongcheng, a neurosurgeon and winner of the State Supreme Science and Technology Award; Zhong Nanshan, a respiratory physician and a hero in China's response to SARS; and Ba Denian, an immunologist and former president of Peking Union Medical College. Tens of thousands of alumni just like them have shaped this industry in not only China but the world at large into what it is today.
 9. PKU Medicine recognizes medical humanities as a pillar to medicine. By setting up School of Medical Humanities, it endeavors to promote the studies of medical jurisprudence, ethics and communication. It is our expectation that our graduates are both skilled and humane. (A versatile doctor with liberal arts skills will be popular among his/her patients.)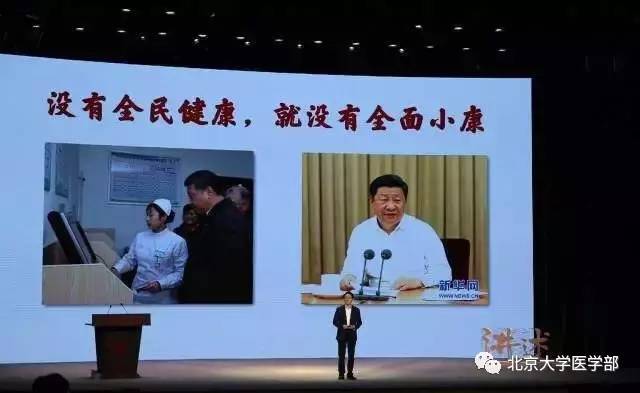 President Lin Jianhua says we are going to build a great PKU, and it's true that a university can be great through its education, research and social contribution. On the road toward a rejuvenated healthy China, it is my belief that PKU Medicine will be a strong driver to propel PKU into greatness and into a world class university.
  PKU Medicine is China's center of medicine and it will become the world's, too.
  Written by: Fan Xiaofei
  Edited by: Liu Xin
  Source: PKUHSC Office of Publicity
TOP