Home» News&Events» News» PKU Medicine-AstraZeneca Joint Real-World Evidence Research Lab Launching Ceremony Held
PKU Medicine-AstraZeneca Joint Real-World Evidence Research Lab Launching Ceremony Held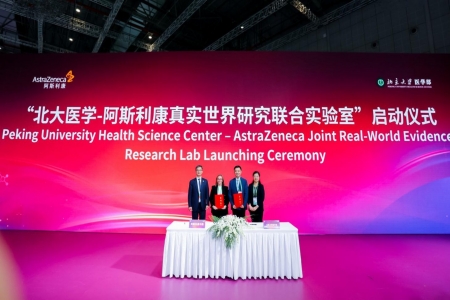 On the afternoon of November 7, 2023, the launching ceremony of the "Peking University Health Science Center- AstraZeneca Joint Real-World Research Lab" was successfully was held at the 6th China International Import Expo.
  Xiao Yuan, vice president of Peking University Health Science Center (PKUHSC), pointed out in his speech that this time, together with AstraZeneca, PKU Medicine will attract top international and domestic experts, form a first-class real-world research team and undertake major national scientific research tasks so as to gradually build a first-class real-world research platform in China.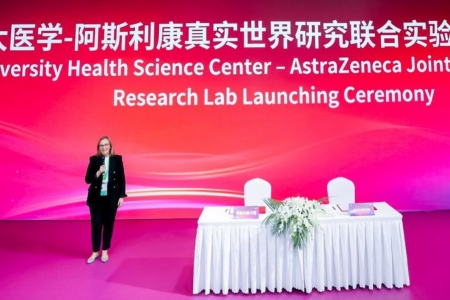 Carmen Moreno, head of the China Branch of AstraZeneca Global Evidence Center and a major participant in the Joint Lab, stated that in China, they will collaborate with local health systems and clinical researchers to promote the changes in clinical practice through high-quality real-world evidence, maximize patient benefits, and help enhance the global influence of China's real-world evidence industry.
  Xiao Yuan and Carmen Moreno signed the agreement of the Joint Lab on behalf of PKUHSC and AstraZeneca respectively, while Sun Feng and Carmen Moreno unveiled the Joint Lab. In the future, both sides will jointly explore and conduct real-world research, enrich the evidence of evidence-based medicine, and promote the clinical diagnosis and treatment of chronic diseases and the development of public health.
  Written by: Wu Zhaoxia
  Edited by: LiuXin
  Source: Business Affairs Management Office/Technology Transfer Office, School of Public Health
TOP