Home» News&Events» News» PKUHSC President Academician Qiao Jie Leads a Delegation to Visit Japan
PKUHSC President Academician Qiao Jie Leads a Delegation to Visit Japan
  Academician Qiao Jie, Executive Vice President of Peking University and President of PKU Health Science Center led a delegation to visit Japan from October 11th till 13th, 2023. The delegation visited Juntendo University (JU) and Keio University, held the 9th PKUHSC-JU joint seminar and the joint seminar in the field of cardiovascular diseases, and visited Wujiang Hao, Ambassador Extraordinary and Plenipotentiary of the People's Republic of China to Japan.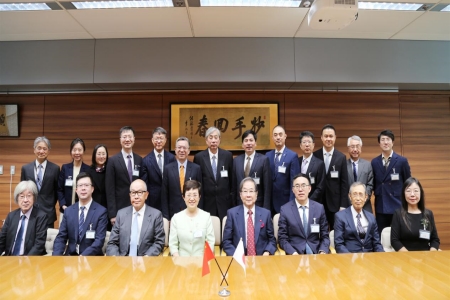 During the visit, PKUHSC and JU held the ninth joint seminar and the visiting professor awarding ceremony. Qiao Jie and Ogawa Hideoki delivered speeches respectively. At the seminar, Academician Lu Lin, President of PKU Sixth Hospital, Professor Huang Xiaojun, Director of Hematology Department of PKU People's Hospital, Professor Tadafumi KATO, Chairman of JU Department of Psychiatry and Behavioral Science, Professor Ando Miki, Director of JU Department of Hematology, made wonderful academic reports on hematological diseases and mental health, shared the latest research results, put forward thoughts and opinions on hot issues in the professional field, and had a warm interaction with experts and scholars on the scene.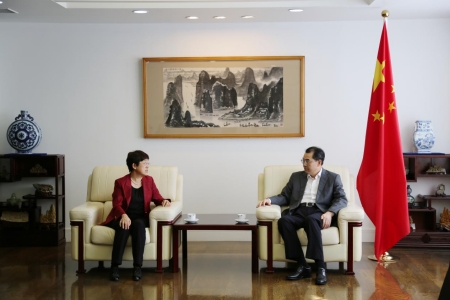 Qiao Jie and Ambassador Wu Jianghao has a cordial talk
  This visit is one of the important activities of PKU's "International Strategic Year." In the medical field, PKU has carried out in-depth exchanges with Japan's first-class medical colleges and institutions, learned from each other's experience, further deepened mutual understanding, deepened pragmatic cooperation between colleges and universities, opened up new cooperation space for the future, and helped the school lay a solid foundation for the double first-class construction. It has also contributed to the promotion of Sino-Japanese non-governmental exchanges and cooperation in the field of medical health.
  Written by: Lang Lang
  Edited by: Liu Xin
TOP