Home» News&Events» News» PKU Delegation Attends the 2023 Asia-Europe Expo · Education International Forum
PKU Delegation Attends the 2023 Asia-Europe Expo · Education International Forum
  On September 15th, the 2023 Asia-Europe Expo · Education International Forum was held at Xinjiang International Convention & Exhibition Center. On behalf of Peking University, one of the organizers of the "Medical Higher Education and Technology Innovation Sub-forum", Wang Jiadong, vice president of Peking University Health Science Center (PKUHSC), and Liu Hong, director of PKUHSC Education Department, attended the meeting and delivered special speeches on "Medical Technology Innovation" and "Medical Higher Education".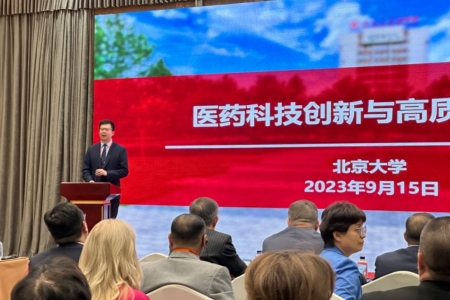 Wang Jiadong talked about several aspects respectively, including the significance of medical technology innovation, the overall thinking of medical technology innovation at PKU Medicine, and the achievements made in recent years.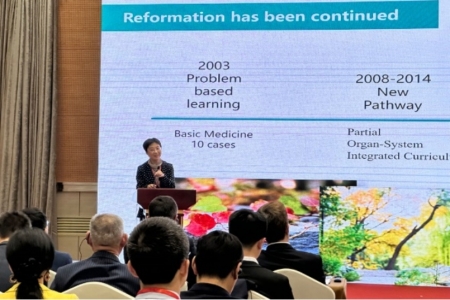 Liu Hong, combining the development process and excellent traditions of PKU Medicine and focusing on PKU Medicine education model and educational reform, introduced PKU Medicine's exploration and attempts in "clinical medicine+ X" so as to meet the requirements of the times and the development of medical education.
  Participants of this forum came from 7 universities in the five Central Asian countries and 10 domestic universities. The presidents and experts of domestic universities, as well as foreign universities such as Georgia, Kazakhstan, Russia, and Thailand, gave speeches and shared their achievements in various forms, achieving multiple results in continuously deepening international education, scientific and technological cooperation and exchanges.
  Written by: Wu Zhaoxia
  Edited by: LiuXin
TOP