Home» News&Events» News» The "China Power" on the International Stage of Limb Salvage: PKU People's Hospital's Bone Tumor Team Draws Attention in ISOLS
The "China Power" on the International Stage of Limb Salvage: PKU People's Hospital's Bone Tumor Team Draws Attention in ISOLS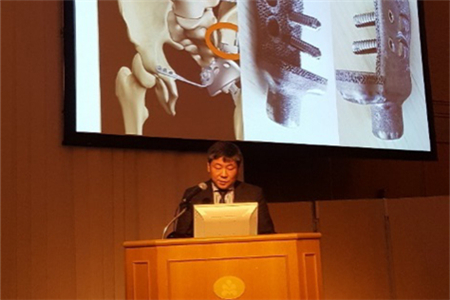 PKU People's Hospital's bone tumor team attracts attention in ISOLs
  From May 10 to 12, 2017, Professor Guo Wei, Director of the Department of Bone Tumor of Peking University People's Hospital (PKUPH), led a delegation to attend the 19th International Society of Limb Salvage (ISOLS) General Meeting held in Kanazawa, Japan.
  Among papers received by the congress, 16 were from this team. And PKUPH topped the hospitals in terms of the number of speeches given at the congress. Members from the team made speeches on pelvic and sacrum tumor, spine tumor, and children limb salvage. They made exchanges with international peers on latest developments in the field of spine tumor and shared their experience. The team's leading research findings and outstanding presentation impressed their peers in spine tumor from all over the world.
  ISOLS is a world-renowned academic association of bone tumor and holds a general meeting every two years. It aims to exchange latest advances in the field of bone tumor and solutions to various problems. Prof. Hiroyuki Tsuchiya, President of this 19th General Meeting, and senior professors in the international field of bone tumor such as Prof Tomita, Prof Rainer Kotz, and Prof Winfried Winkelman, mentioned PKUPH bone tumor team several times at the concluding ceremony. And China's achievements in the field of bone tumor were acknowledged and highly praised.
  Written by: Lang Lang
  Edited by: Liu Xin
TOP