Home» News&Events» News» PKUTH Orthopedic Team Attends 15th International Conference on Degradable Medical Metals in Europe
PKUTH Orthopedic Team Attends 15th International Conference on Degradable Medical Metals in Europe
  In August 2023, Professor Tian Yun, director of Orthopedic Trauma Surgery at Peking University Third Hospital (PKUTH), and his delegation were invited to Italy to attend the 15th International Conference on Degradable Medical Metals and engaged in academic exchanges.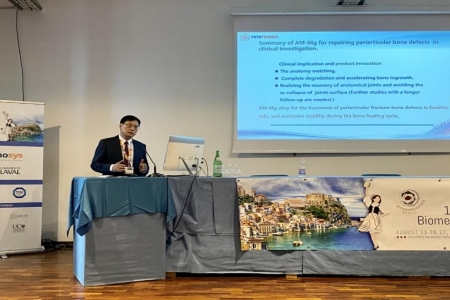 The first morning of the conference began with Professor Tian Yun, a representative of internationally influential scholars in this field, giving a keynote speech titled "Application of 3D Printing Magnesium Alloy Fully Structured Controllable Degradation Support for Limb Periarticular Bone Defects: From Basic to Clinical". The clinical application research of 3D printing degradable magnesium alloy implants at PKUTH is the first report at home and abroad, and it is also a demonstration of the team's leading international level in the manufacture and research of degradable magnesium alloy additives.
  During the conference, team members, as well as their collaborating researchers from Peking University including Professor Zheng Yufeng and Professor Wen Peng, had extensive exchanges with researchers and business representatives from such countries as the UK, the United States, Germany, Belgium, the Netherlands, Austria, Italy, Switzerland, and South Korea.
  Written by: Wu Zhaoxia
  Edited by: LiuXin
  Source: Peking University Third Hospital
TOP