Home» News&Events» News» The Innovation Medicine Commenced and Academician Qiao Jie Serves as Editor-in-Chief
The Innovation Medicine Commenced and Academician Qiao Jie Serves as Editor-in-Chief
  On June 28, 2023, The Innovation Medicine (ISSN 2959-8745) was inaugurated, and Volume 1 Issue 1 was officially published. The Innovation Medicine is the medical sister journal of The Innovation , which publishes innovative, rigorous and cutting-edge important medical research progress globally through Open Access. Academician Qiao Jie, Executive Vice-President of Peking University, President of PKU Health Science Center, and President of PKU Third Hospital (PKUTH) Institute of Medical Innovation, served as editor-in-chief. Li Rong, PKUTH Vice President and Dean of PKUTH Department of Reproductive Medicine, Li Weishi, Dean of Orthopaedics Department, Zhao Rongsheng, Dean of Pharmacy Department, and Jiang Dong, Deputy Dean of Sports Medicine Department were the editorial board members.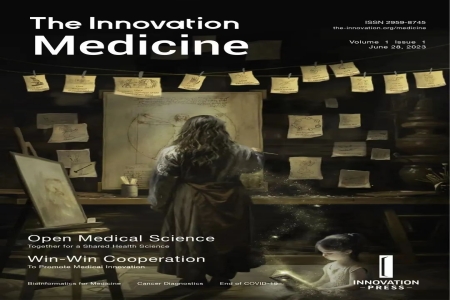 Cover of The Innovation Medicine , Volume 1 Issue 1
  The Innovation is a comprehensive English academic journal initiated by young Chinese scientists who love scientific research and co-founded with Cell Press in Beijing in 2020. It shows inspiring interdisciplinary discoveries to the scientific community and encourages researchers to focus on the nature of science and the original intention of free exploration. The authors come from 54 countries around the world, quoted by authors from 123 countries, about one fifth to one third of each issue's correspondents are from overseas. At present, there are 196 members of the editorial board from 21 countries, of which fifty percent are from overseas, including one Nobel Prize winner and 37 academicians from various countries, covering all natural sciences. The Innovation has been included in DOAJ, ADS, Scopus, PubMed, ESCI, INSPEC, EI and other databases. The JCR impact factor in 2022 is 32.1 (Clarivate, June 28, 2023).
  The Innovation Medicine mainly publishes clinical and experimental research papers, reports, reviews, prospects, illustrations and other types of articles. At the same time, it also provides readers with non-clinical information in the fields of medicine, public health and health care, involving policy, industry, culture, ethics, environment, science popularization and other aspects.
  Written by: Lang Lang
  Edited by: Liu Xin
  Source: PKUTH
TOP