Home» News&Events» News» The Chinese Kuomintang Medical Commission Chairman Cai Mingzhong Visits PKUHSC
The Chinese Kuomintang Medical Commission Chairman Cai Mingzhong Visits PKUHSC
  From May 24 to 25, Cai Mingzhong, Chairman of the Medical Commission of the Chinese Kuomintang (KMT), visited Peking University Health Science Center (PKUHSC). Qiao Jie, Executive Vice President of Peking University and President of PKUHSC, met the guests. During the visit, Cai also paid a visit to Peking University Third Hospital (PKUTH).
  Qiao Jie welcomed Chairman Cai Mingzhong's visit. She pointed out that PKUHSC was one of the first mainland medical colleges to establish exchanges with medical colleges in Taiwan, China. At present, PKUHSC has carried out multi-track and multi-level exchanges with many medical colleges in Taiwan in many fields, among which, the "Cross-Strait Medical Student Exchange Program" organized by PKUHSC has promoted mutual understanding among young medical students from both sides of the Taiwan Strait. Through the program, young people from both sides of the Taiwan Strait have broadened their horizons and gained deep friendship. Qiao Jie stated that PKUHSC hopes to continue to strengthen exchanges and cooperation with various medical schools in Taiwan in various fields, and make contributions to promoting common development in the medical field across the Taiwan Strait. In addition, as the Vice President of the Chinese Medical Association and Chairman of the Expert Committee on Hong Kong, Macao and Taiwan Affairs, Qiao Jie also expressed her hope and support on the joint efforts of the Chinese Medical Association and the Chinese KMT Medical Committee to promote Cross-Strait academic exchanges and practical cooperation.
  Cai Mingzhong thanked PKUHSC for its warm reception. He stated that promoting exchanges and cooperation between the two sides in the medical field is very important. He introduced the relevant situation in medical education, scientific research, and medical care in Taiwan, hoping that both sides can enhance understanding and work together for the health and well-being of the people across the Strait.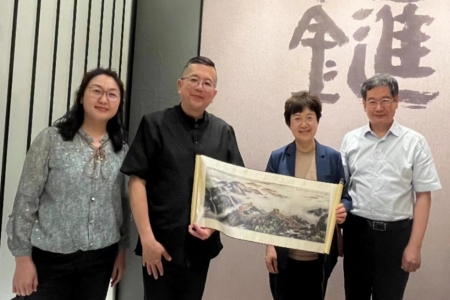 During the visit, Cai Mingzhong paid a visit to PKUTH and joined a symposium at the hospital. The two sides had heated discussions on communication and cooperation in various fields including medical technology innovation, medical service models, medical education, and so on.
  Written by: Wu Zhaoxia
  Edited by: LiuXin
  Source: Hong Kong, Macao and Taiwan Affairs Office of PKUHSC, Peking University Third Hospital
TOP