PKU-Ningbo Institute of Marine Medicine Officially Inaugurated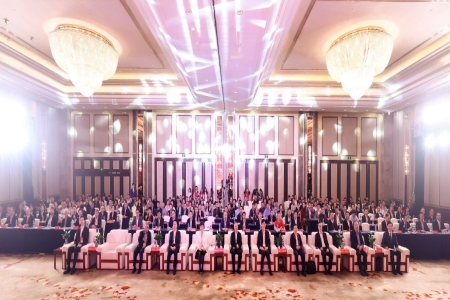 On April 28th, after three years of preparation work, the first remote research institution of PKU Medicine--- PKU- Ningbo Institute of Marine Medicine --- officially opened, fully embarking on a new journey of innovative drug research and development, promoting the coordinated progress of both the high-level scientific research of Peking University Health Science Center(PKUHSC) and the innovation in Ningbo's biopharmaceutical industry, and thus contributing to the high-quality development of Ningbo's economy.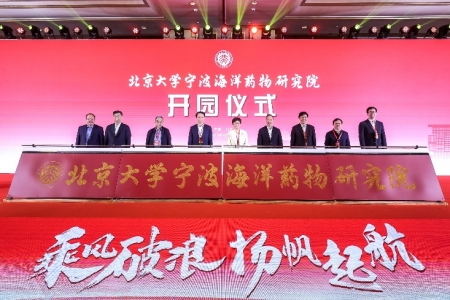 After the inauguration ceremony, the four plaques of the Institute, namely " Incubation Base of State Key Laboratory for Natural and Biomimetic Drugs at Peking University", "Postdoctoral Workstation in Zhejiang Province", "Graduate Training Base for PKU Medicine Graduate School", and "Joint Training Base for Future Scientists of Binhai International 'Soaring Plan' at PKU-Ningbo Institute of Marine Medicine", were successively unveiled, which marked the establishment of university-enterprise alliance ---PKU-Ningbo Institute of Marine Medicine.
  On the afternoon of the ceremony, the China Ningbo Biopharmaceutical R&D High-quality Strategy Forum was held.
  The PKU-Ningbo Institute of Marine Medicine will take the opening as a new starting point, bring into full play PKU medical talents and technological advantages, serve as a "two-way effect" on both national strategy and Ningbo's development, actively explore the integrated innovation model of "technology R&D- achievement transformation- industry incubation", strive to become a core institution of new drug research and development with international influence, and promote the transformation and upgrading of Ningbo's biopharmaceutical industry, so as to make greater contributions to accelerating the construction of Zhejiang's "315" scientific and technological innovation system, assisting Zhejiang in building a high-tech innovation highland for the life and health industry, and serving the construction of "Healthy China 2030" with stronger responsibilities and greater capabilities, thus allowing more Chinese innovative drugs to go global.
  Written by: Wu Zhaoxia
  Edited by: LiuXin
TOP