Home» News&Events» News» Qiao Jie Attends the 223rd Plenary Meeting of WMA Council and Visits the University of Nairobi
Qiao Jie Attends the 223rd Plenary Meeting of WMA Council and Visits the University of Nairobi
  On April 19-22, 2023, Academician Qiao Jie, executive vice president of Peking University and president of Peking University Health Science Center (PKUHSC), led a Chinese delegation to attend the 223rd Plenary Meeting of the World Medical Association (WMA) Council held in Kenya and visited the University of Nairobi.
  At the 223rd Plenary Meeting, Academician Qiao Jie, as a member of the WMA Council, actively spoke on issues such as public health, medical ethics and financial schemes, providing professional opinions and suggestions. At the same time, Qiao distributed to all members of the Council at the conference the "Special Invitation Major Report on the Health of Chinese Women's Reproduction, Maternity, Newborns, Children, and Adolescents" with Qiao as the main contributor published in The Lancet . Through statistics and facts, she succeeded in telling the story of China and spreading the voice of China, which won her widespread support from Council representatives of various countries present at the meeting.
  During the visit, Academician Qiao Jie also visited the University of Nairobi and at the Confucius Institute, met with the University Vice President Johnson IreriKinyua, Dean of the Medical School George Osanjo, as well as staff in charge of graduate schools, obstetrics and gynecology, pediatrics, surgery, and other related departments.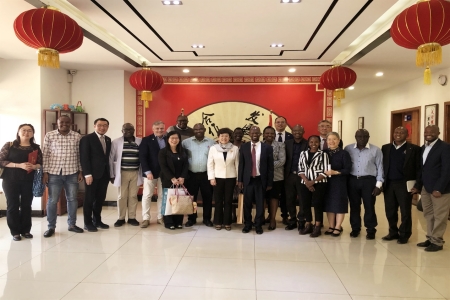 During the meeting, both sides discussed the possibility of cooperation in the fields of clinical student exchange, postdoctoral training, joint seminars, multicenter clinical trials and joint research. They also held detailed discussions on the topics of research cooperation, including perinatal medicine, pediatrics, early diagnosis and treatment of kidney diseases, cancer, and so on.
  Written by: Wu Zhaoxia
  Edited by: LiuXin
TOP