Home» News&Events» News» Peking University-Yunnan Baiyao International Medical Research Center Inaugurated
Peking University-Yunnan Baiyao International Medical Research Center Inaugurated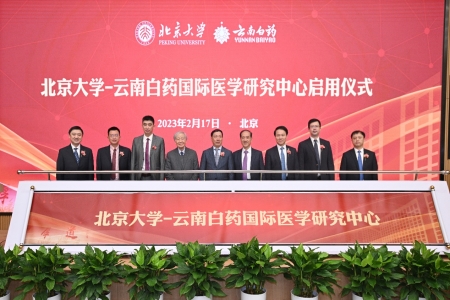 At the beginning of the new year, the PKU-Yunnan Baiyao International Medical Research Center entered the PKU Medicine Science Building. The opening ceremony was successfully held on the morning of February 17, 2023, marking the start of the scientific research and teaching work and the experimental platform construction work, and thus promoting the high-quality development of PKU medicine to make a new breakthrough and reach a new level in a new situation and with a new role.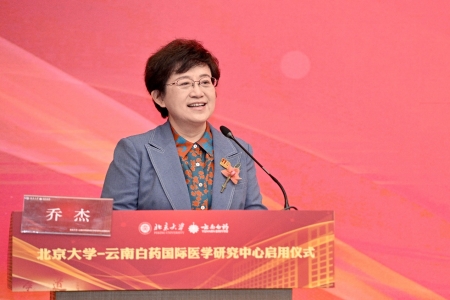 Qiao Jie, academician of the Chinese Academy of Engineering, executive vice president of Peking University, president of Peking University Health Science Center (PKUHSC), president of Peking University Third Hospital (PKUTH), and council member of the PKU- Baiyao Medical Center, pointed out in her speech that medical development should strengthen innovation at the source and promote the collaboration among industries, universities, and research institutes, and PKU Medicine will always take serving the country's health care as its highest pursuit, take tackling major scientific and technological problems in our country as its glorious mission, and strive to achieve the goal of "scientific research and innovation achievements being closely linked with national development".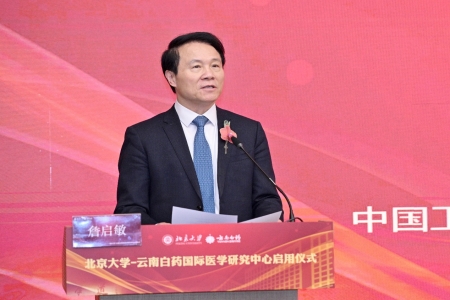 Zhan Qimin, academician of the Chinese Academy of Engineering, director and council president of PKU-Baiyao Medical Center, introduced the platform construction, future development direction and goals of the Center. He pointed out that the establishment and development of PKU-Baiyao Medical Center is in line with the development direction and requirements of national scientific and technological innovation, and it is a banner of school-enterprise cooperation in China and a benchmark of medical innovation system.
  PKU-Baiyao Medical Center will continue to focus on the field of medicine and health and on cutting-edge and international research, aiming to build an international first-class research and development center so as to fulfill the important mission of serving people's life and health in the country.
  Written by: Wu Zhaoxia
  Edited by:Liu Xin
TOP