Home» News&Events» News» Academician Han Jisheng Wins Sheikh Zayed International Traditional Medicine Award
Academician Han Jisheng Wins Sheikh Zayed International Traditional Medicine Award
  On October 10, 2022, the second Zayed International Traditional Medicine Award Ceremony was held in Abu Dhabi, and Chinese Ambassador to the United Arab Emirates Zhang Yiming was invited to attend. Han Jisheng, professor of Peking University and academician of the Chinese Academy of Sciences, won the Second Sheikh Zayed International Traditional Medicine Award (TACM2022 International Award), in recognition of his fruitful achievements in the academic field of acupuncture and moxibustion over the past half century and his outstanding contributions to the health of all mankind.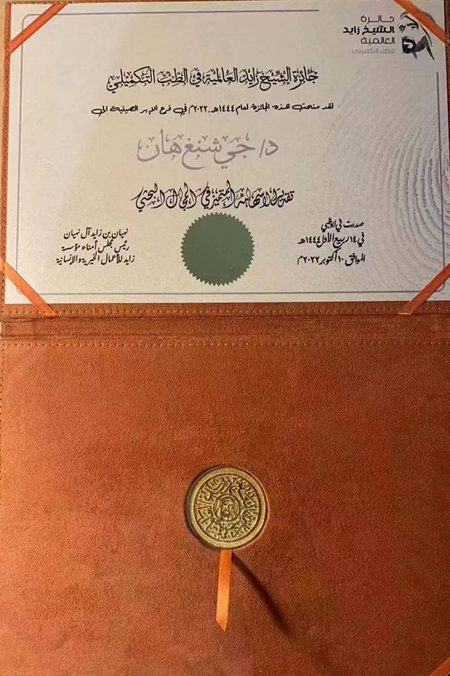 Ambassador Wu Sike, former Chinese Special Envoy for the Middle East and Plenipotentiary to the League of Arab States, pointed out: "The Sheikh Zayed International Traditional Medicine Award of the United Arab Emirates is an award of great influence in Middle East countries and the world. Academician Han Jisheng's winning this award is not only a commendation for his decades of hard work in the field of traditional medicine, but also a tribute to the broad and profound traditional Chinese medicine, which is of great significance for the world to have a better understanding of traditional Chinese medicine, and is really worth celebrating."
  Ahmad Hajri, director of Zayed Charity and Humanitarian Foundation, the organizer of the Award, attended the ceremony and presented awards to the experts and physicians of traditional, complementary and alternative medicine from China, the United Arab Emirates, Australia, Canada, Egypt, Greece, India, Saudi Arabia, Switzerland, Ukraine, the United Kingdom, the United States and other countries.
  Written by: Wu Zhaoxia
  Edited by: Liu Xin
  Source: www.huanqiu.com
TOP