Home» News&Events» News» Qiao Jie Invited to Make a Keynote Speech at the Dean's Lectures by the University of Hong Kong
Qiao Jie Invited to Make a Keynote Speech at the Dean's Lectures by the University of Hong Kong
  On September 26, 2022, Academician Qiao Jie, Executive Vice President of Peking University and President of Peking University Health Science Center was invited to make a speech at the 135th Anniversary Dean's Lectures held by the Li Ka Shing Faculty of Medicine, the University of Hong Kong (HKUMed). Xu Ming, Vice Dean of PKU Graduate School was also invited on the panel.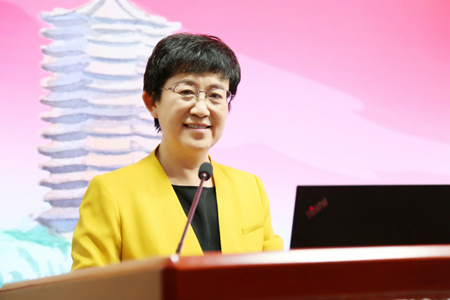 Academician Qiao Jie makes the speech at the Beijing venue
  Academician Qiao Jie first made the speech titled "Strategic Scientific and Technological Capacity Building in Clinical Medicine". She said that faced with the future, we should strive to form a full chain structure of "basic-clinical-translation-application" to establish a stronger, more comprehensive and resilient health system to serve the people's sustainable and better life.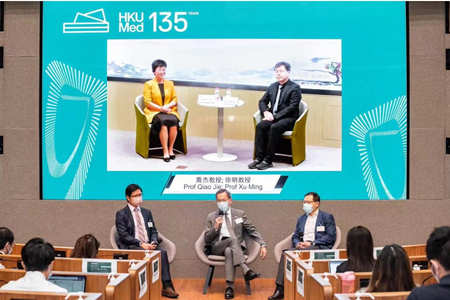 The panel discussion
  In the panel discussion session, Academician Qiao Jie, Professor Xu Ming, the panelists and the audience at the venue made in-depth exchanges about the path of cooperation between Hong Kong and the mainland in the medical field, the direction of cooperation in drug research and development, the key position of the application of medical data and basic research in the full chain of medical research and translation, and how young clinicians could better carry out scientific research, etc.
  At the end of the lecture, Professor CS Lau, Dean of HKUMed expressed the hope that in the future HKUMed and PKUHSC could strengthen their cooperation and respond together to human health challenges.
  Written by: Lang Lang
  Edited by: Liu Xin
  Source: PKUHSC Office of Hong Kong, Macao, and Taiwan Affairs
TOP