PUTH Professor Won Global Trauma Excellence Award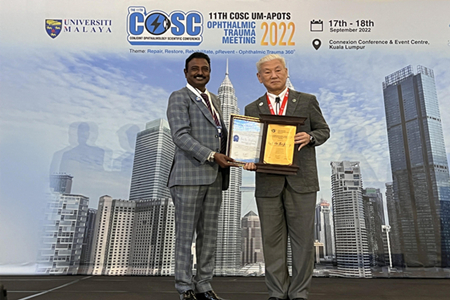 Professor Ma Zhizhong of Peking University Third Hospital received Outstanding Contribution Award in Global Leadership and Ophthalmology at the 11th Conjoint Ophthalmology Scientific Conference (COSC) held September 17-18 in Kuala Lumpur, Malaysia. This is the first time the Asia Pacific Ophthalmic Trauma Society (APOTS) bestowed this award. In the Global Trauma Excellence Award Lecture that followed, Prof. Ma reported on the topic "Traumatic Proliferative Vitreoretinopathy: Past, Present and Future".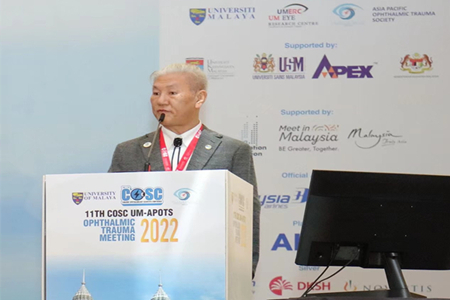 Professor Ma Zhizhong has long been committed to clinical and scientific research in eye injury and vitreoretinal diseases. He is a pioneer in multi-site Eye Injury Vitrectomy Study (EIVS) and founder of ocular trauma registration system in China. His research focuses on the pathogenesis and risk factors of traumatic proliferative vitreoretinopathy, the risk factors and treatment of no light perception caused by eye injury, regeneration of optic nerve after partial injury, surgical timing of traumatic macular hole, and classification and surgical repair of traumatic choroidal injuries. His innovative approaches have changed the fate of countless patients with eye injury.
  Written by: Fan Xiaofei
  Edited by: Liu Xin
  Source: Peking University Third Hospital
TOP