Signing Ceremony Held for PKUHSC Hansoh Psychiatry Development Fund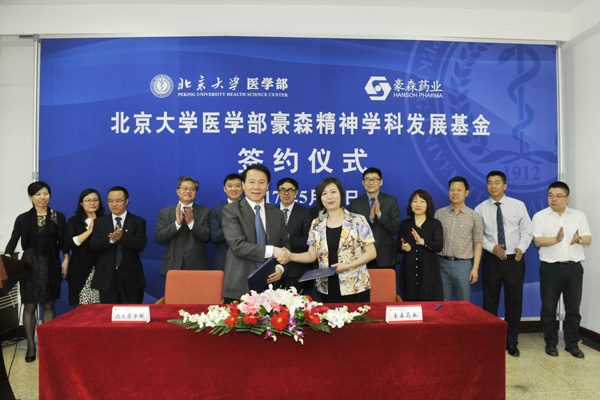 On the morning of May 15, 2017, the signing ceremony of Peking University Health Science Center Hansoh Psychiatry Development Fund was held at PKUHSC conference center. The senior executives of Hansoh Pharma and the leadership of PKUHSC attended the ceremony.
  Lu Lin, President of Peking University Sixth Hospital, first expressed gratitude toward Hansoh Pharma for their concern and support for the mental health sciences of Peking University. Fu Caiyun, Deputy CEO of Hansoh Pharma, said that they were very honored to cooperate with PKUHSC and promote the development of psychiatry in our country.
  Academician Zhan Qimin, President of PKUHSC, made the concluding speech. He stressed the importance of the cause of mental health and acknowledged PKU Sixth Hospital's leading position in our country's mental health institutions and its being an important component in PKU medicine. He said in this context, the donations made by Hansoh Pharma would promote greatly the development of PKU psychiatry, especially in terms of talent introduction and training, and mass mental health. And he believed that PKUHSC and PKU Sixth Hospital would utilize these resources in key points of development and thus further push forward the development.
  Written by: Lang Lang
  Edited by: Liu Xin
  Source: Peking University Sixth Hospital
TOP