Home» News&Events» News» President & Principal Edward Byrne of King's College London Appointed as Honorary Professor at PKUHSC
President & Principal Edward Byrne of King's College London Appointed as Honorary Professor at PKUHSC
King's College London President & Principle Edward Byrne appointed as PKUHSC's honorary professor
  On May 10, 2017, Edward Byrne, President & Principal of King's College London (KCL) and a famous neurologist, accepted the invitation and became an honorary professor at PKUHSC. President Zhan Qimin awarded him the letter of appointment.
  Zhan Qimin spoke highly of Prof Byrne's academic accomplishments and his contributions to the promotion of substantial collaborations between PKUHSC and KCL. Prof Byrne expressed his appreciation and said he was willing to play his role as an honorary professor to make more contributions to PKUHSC. Then the two sides held discussions about collaborative possibilities in global health, clinical psychiatry, neurology, and medical systems.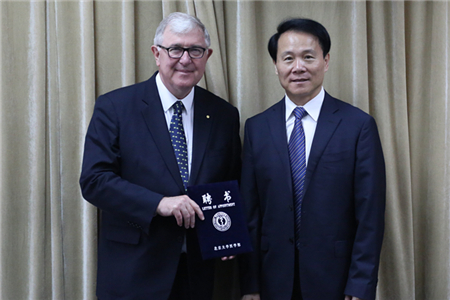 PKUHSC President Zhan Qimin awarding Edward Byrne Letter of Appointment
  King's College London was founded in 1829 and ranks among the Top 20 universities (the Times Higher Education World University Rankings 2016). KCL has distinguished prestige especially in fields such as humanity, law, health sciences (e.g. psychiatry, neurology, medical sciences, nursing, and stomatology) and social sciences (including international relations). Twelve Nobel Prize winners have worked or studied at KCL. In 2014, KCL and PKUHSC signed the cooperation agreement to set up the PKUHSC-KCL Joint Institute for Medical Research.
  Written by: Lang Lang
  Edited by:LiuXin
TOP